| | |
| --- | --- |
| | / Tarptent Scarp 2 - experiences? |
This topic has been archived, and won't accept reply postings.
I'm in the market for a new tent.
Currently using a Terra Nova Super Quasar, which is great, but weighs 4.5kg! Considering most of our camps seem to be on top of mountains or at the end of long days, it's time I bought something a bit lighter.
I had originally decided on a Voyager, but I've always found them a bit cramped for 2.
Spotted a few people mention the Scarp 2. It's seems to be spot on, low weight, easy to pitch, roomy for two, reasonably priced and 4 season.
http://www.tarptent.com/scarp2.html
Has anyone used the Scarp 2 for UK use, specifically on Scottish mountains in winter or when it's blowing a hoolie?
I've not seen that type of design before and I am a little concerned how it performs in strong winds.
I would go for the solid inner and 2 pole version.
Thanks
In reply to
professionalwreckhead:
I recommended the Scarp2 on the other tent thread.
I have only used the 1 man version and it has been excellent. You either use it as a single pole ultralight or with the addition of two crossing poles. I have used it with the crossing poles in snow and high winds and it was excellent.
The pitch is drum tight and the space on offer for such a light tent is remarkable.
Have look for some user reviews on OM, mainly for the Scarp1 but there might be some 2 users now as well.
In reply to
TMM:
Thanks TMM, that's really helpful.
Yes, the space is really appealing - one of the reasons I lug the Super Quasar everywhere is because the extra room is such a bonus in winter when we invariably spend longer in the tent and carry more kit.
Glad to hear it pitches well, it's hard to tell from the video/pictures and obviously there is nowhere in the UK to check one out.
Is the groundsheet fairly robust or would you recommend a footprint?
In reply to
professionalwreckhead:
I have a Scarp 2 and its an awesome bit of kit. It's done plenty of nights in the lakes and a 5 night trip to Scotland in Spring but I've never particularly used it in full winter conditions.
You have to be aware that you would need to seal the seams of the tent when you get it. This means time with some turps, silicone and a paint brush, preferably outside. It also takes a while to dry after you do this so you need to keep the tent up and somewhere dry.
The groundsheet is also quite slipy so to get around this I silicones that too.
I'd definitely recommend it as a tent, it's just a pain having to silicone it first.
Mark
In reply to
monkeymark:
I've got a dragon fly 2 mountain equipment, it comes unsealed too, never sealed it myself and have never had any problems with water getting in.

In reply to
xplorer:
I must admit I never tried it un-sealed. Give it another year or two and I'm sure I'll get the opportunity.
---
This topic has been archived, and won't accept reply postings.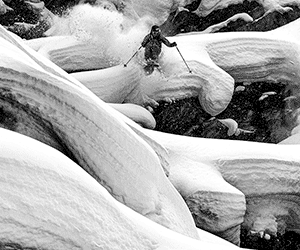 Elsewhere on the site
At a bar in Llanberis an old man chimed in And I thought he was out of his head Being a young man I just laughed it off When... Read more
141203
0
Tonight's Friday Night Video features the Norwegian town of Rjukan, once believed to be the home of the world's tallest... Read more
141219
0
Perhaps the perfect Xmas gift for the climber in your life... Wild Country's Crack School has two of the worlds best crack... Read more
141219
0
F ounded in 1993, Mountain Hardwear are a pretty young mountaineering clothing and equipment manufacturer but are also one of... Read more
141216
0
Rock shoes stink – let's face it. Boot Bananas are the perfect way to fight the funk and keep them fresh. They help... Read more
141219
0
---