| | |
| --- | --- |
| | / no crampons in snowdonia (part 2) |
This topic has been archived, and won't accept reply postings.
Morning all,

I realise there is an identical post to this a bit further down but for some reason it wouldn't let me reply to that one?

I'm taking a bunch of friends to Snowdonia (penmachno to be precise) this weekend and they won't have crampons/axes. Any recommendations for what I can do with them? Saturday looks a bit of a washout but I was wondering whether the snow would've retreated enough by Sunday to get up high?

Thanks in advance
In reply to
Meltus: Possibly you weren't logged in when you opened the other post. Try pressing ctrl+F5 on that page.
Anyway it was all melting by the end of last weekend, so I imagine you'll be able to get pretty high. Even when it was still in, some people were on top of Snowdon via the Llanberis path without any spikes. (Not necessarily wise).
Be prepared to turn back if judgement dictates it, but you're very likely to get something done imo.
In reply to
Meltus: Take a look on the OVMRT, the team were called out today to a couple stuck above Ffynnon Llugwy, no ice axes or crampons! There is still snow and ice on the higher paths!
In reply to
Meltus: It is all melting but higher up there are still large patches of snow (probably ice) that will remain for a while yet. I was up Moel Cynghorion on monday and you could avoid all the snow easily. looking over to the Moelwyns, there was absolutely no snow around Cwm Bychan though Cnicht looked rather white. A lot of the snow that fell was drifted so I'd have thought most places around penmachno will be ok as it's a bit lower than further north.
You'll find something to do, i'm sure.
In reply to
highclimber: Take a look on the Met Muontain website, ground conditions, ice axe and crampons essential!

In reply to
Blodwyn: I was up on Y Lliwedd yesterday morning (sat 13th), and there is still quite a lot of snow around. Mostly in hollows and shady places, but it's now very wet and granular (don't know the proper word for this type of snow sorry). I'd taken crampons but the surface was too soft to make them effective. It was raining by around 2pm when we got off the hill, so in a few days there'll be no snow there at all IMO. Whole place was saturated with melt water though and I got very wet breaking through a snow-bridge and plunging into a deep pool in a hidden stream!
---
This topic has been archived, and won't accept reply postings.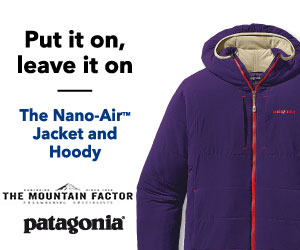 Elsewhere on the site
At a bar in Llanberis an old man chimed in And I thought he was out of his head Being a young man I just laughed it off When... Read more
141203
0
F ounded in 1993, Mountain Hardwear are a pretty young mountaineering clothing and equipment manufacturer but are also one of... Read more
141216
0
Rock shoes stink – let's face it. Boot Bananas are the perfect way to fight the funk and keep them fresh. They help... Read more
141219
0
Perhaps the perfect Xmas gift for the climber in your life... Wild Country's Crack School has two of the worlds best crack... Read more
141219
0
Tonight's Friday Night Video features the Norwegian town of Rjukan, once believed to be the home of the world's tallest... Read more
141219
0