| | |
| --- | --- |
| | / Skye |
This topic has been archived, and won't accept reply postings.
Am taking my wife and two boys to Skye for a long weekend. Boys are 6 & 9. Are there any abseil points you would recommend (that arent at the top of the Cuillins) :-)

Looking for soemwhere not too high that we can potter about on but not get in anyone's way

Thanks

Sean
In reply to
cpsactivities:
Abseiling off the top of Mother's Pride at Suidhe Biorach would be a life-affirming experience, although they would have to second Severe to get out.
Down An Teallach would also be great but then you'd need 100m of static rope and they'd need to swim 1/2 a mile to escape.
In reply to
cpsactivities:
If you head along the coast from the Glenbrittle campsite (left hand side looking out to sea) for about 800m to 1.5km you'll find some wee sea cliffs. They are very short but you should be able to find a suitable spot to create an anchor and have them abb off. There are several sections where you can easily scramble/walk out after abbing off. I've used several locations there in the past for both adults and kids. It's a nice wee walk as well.
In reply to
cpsactivities: If you go up past the Fairy Pools into Coire na Creiche then skirt to the right of Sgurr an Feadhain up towards the Bealach na Glaich Mor, but only as far as the upper coire, where you'll find plenty of wonderful gabbro slabs to play on. I took my wife, kids and their grandmother up there for some abseil fun last summer. A perfect picnic spot, incredible alpine scenery, and a true playground. And all not much more than an hour's brisk walk. Best wait for a sunny day though.
In reply to
cpsactivities: Trouble with Fiend's (tongue-in cheek?) suggestion is on Mother's Pride you'll be above the water and about 15-20 foot out from the base, as it overhangs quite considerably. Perfect if you want to totally traumatise them for years to come, but I don't think that's the intention!?
Would have thought there's plenty of options at Neist, including the wee crags beneath the car park, with lots of easy climbing options also. Rock here nowhere near as good as elsewhere at Neist though! Conductor Cove is another obvious option, with some short routes, and also a scramble descent/escape. Also usually fairly sheltered.
Cheers,
Gary

In reply to
cpsactivities: The south of the steps section at neist would suit, single pitch from diff to E2. Plenty of decent belays to ab off too.
Plus the lighthouse would probably be quite interesting for the kids.
---
This topic has been archived, and won't accept reply postings.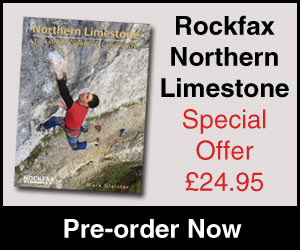 Elsewhere on the site
Perhaps the perfect Xmas gift for the climber in your life... Wild Country's Crack School has two of the worlds best crack... Read more
141219
0
The release of Peter Jackson's new film The Hobbit: The Battle of the Five Armies on 12th December may not appear to link to... Read more
141212
0
Rock shoes stink – let's face it. Boot Bananas are the perfect way to fight the funk and keep them fresh. They help... Read more
141219
0
F ounded in 1993, Mountain Hardwear are a pretty young mountaineering clothing and equipment manufacturer but are also one of... Read more
141216
0
Tonight's Friday Night Video features the Norwegian town of Rjukan, once believed to be the home of the world's tallest... Read more
141219
0
---