| | |
| --- | --- |
| | / Family tent. |
This topic has been archived, and won't accept reply postings.
For mountaineering, I'm used to my Terra Nova Quasar in which I feel entirely secure from the elements.

I want to buy a family tent which doesn't have to be on that level but just made well and is t flapping around all over the place when the weather gets a bit rainy or blowy. I e seen too many crappy family tents blowing away on campsites.

I was thinking of something from Vango or Wild Country

Any ideas?
In reply to
Bloodfire: depends what you mean by family tent - if you're after something big enough to stand up and walk around in, with separate bedrooms, then I'd go for something from Outwell. They tend to be the sturdiest and solid-est on most campsites I've ever visited. Of course there's a trade-off - they're also pretty bulky and heavy when bagged.
In reply to
Bloodfire: Hi I have a Wild Country Homestead 5 tent available for sale if you are interested.
Regards,
Jon
In reply to
Bloodfire:
Wild Country Camplite 5, which is the only family tent we could find that had a) headroom so we could stand up carrying a baby, b) a sensible price, c) rated for 3 season use.
It's very light for a decent family tent (about 10kg), but has a bathtub groundsheet - good for shaking out sand, not so good for drafts. Can pitch it one-manned, even in wind. This is a distinct advantage if it's raining and Mrs Nutkey is looking after the kids in the car.
We've since purchased an Outwell Montana 6 though - weighs a ton and takes a fair bit of space in the car boot, but loads of space. Not good for one nighters because it takes so long to put it up, and is pretty difficult to do with one person in wind, though it is possible (and someone will usually lend a hand).
In reply to
Bloodfire:
Depends a bit what you're looking for (weight vs space), but Vango and Wild County are good starting points in my experience.
We have a Wild Country Monsoon as our small family tent - wild camping or just the odd night - light & small enough to carry, can put up quickly with one person, etc. It's basically a scaled up backpacking tent - not fully geodesic, needs a few pegs to hold it up, but a long way towards it. Good deal on Sports Direct....
But I wouldn't want to spend a wet week in it. For that, we have a Wild Country Homestead (I think - Wild Country one with steel poles, anyhow - decision was made by being able to get in on eBay for £50). Much bigger, and much, much heavier - and takes at least two adults to put up, which can be a challenge with small kids "helping".
The WC Camplite someone mentioned above is the best compromise between the two that I've seen, but can't justify it when I already have the other two!

In reply to
Bloodfire:
Definitely check out the Quechua tents, which are sold in the UK through Decathlon stores. Very good designs, very good value: a fraction of the cost of mountain tents, but vastly superior to the cheap and nasty "festival" tents. There is a good range of sizes, so you should be able to get one that is just right for your purposes. I looked at all other tents available in the UK before buying one of these.
My brother Gordon recommended these tents to me, and I agree with his assessment having used a Quechua XXL around Europe last autumn. They are very easy and quick to erect and pack up. (You do have to watch the on-line training video to see how this is done!)
---
This topic has been archived, and won't accept reply postings.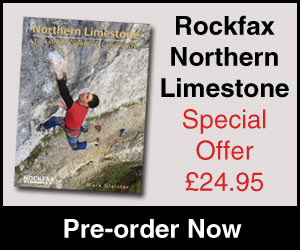 Elsewhere on the site
Will Sim and Andy Inglis have made the second ascent of VIII,9 on Ben Nevis, followed by Will making a rare... Read more
141222
0
Perhaps the perfect Xmas gift for the climber in your life... Wild Country's Crack School has two of the worlds best crack... Read more
141219
0
At a bar in Llanberis an old man chimed in And I thought he was out of his head Being a young man I just laughed it off When... Read more
141203
0
F ounded in 1993, Mountain Hardwear are a pretty young mountaineering clothing and equipment manufacturer but are also one of... Read more
141216
0
PowerFingers is a simple, easy to use product which is incredibly effective for Climbers who require finger strength and... Read more
141222
0