| | |
| --- | --- |
| | / Pulled hamstring |
This topic has been archived, and won't accept reply postings.
Tweaked my hamstring a couple of nights ago, and I've a few events coming up in 10 days. Its not a serious pull, but I certainly couldn't run on it without it hurting.
I'm doing the obvious stuff with icing and light stretching, and I'm still planning on doing the events, but would I make it worse or will it just make me slower? or do I just shut up and MTFU

Ta

In reply to
JamButty: Depends if its a strain or a tear..
I'd roll it.. some light runs.. lots of stretching and see...
Get a tennis ball.. place it on say a bench and lft your leg up and down with your lower leg/foot hung off the bench and massage the area if its not too bad.. it'll help blood flow. do circles with the ball. If its actually torn I wouldn't do that.
In reply to
JamButty:
Definitely don't MTFU!! I often get tweaky hamstrings (especially if doing big mileage and / or hard intervals), normally a few days off (running) sorts it quicker than a light jog which tends to aggravate things and slow the recovery. Switch to swimming from running helps to maintain fitness without making the problem worse, for me at least.
In reply to
JamButty: I'd convinced myself I had damaged a hamstring last November. Started to think I'd really hurt it, the pain was so bad when walking. Saw a physio. Diagnosed herniated disc in the back.
MRI then shows rather large herniation.
What I learnt - get to doctor or physio. As much as people on here are well meaning, and the internet full of useful diagnostic tools, a specialist will give best advice.
Good Luck.
In reply to
Mark Morris: nah its not that bad but thanks for comments.
did long bike on sun, v short run Mon interspersed with heat pack and the tennis ball!
Its there all the time but not really hindering me. I've got a tri on Sunday so I can see how I get on with it, then worry about the 1/2 mara a few weeks later!
Thanks for advice :-)

In reply to
JamButty:
No heat on acute injuries.
Ice only. Rest it, stretch but not to pain, NSAIDS IF you can take them.
If running , which is not advisable, then shortening your stride length may help.
---
This topic has been archived, and won't accept reply postings.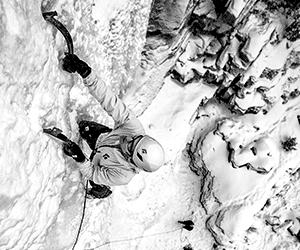 Elsewhere on the site
Perhaps the perfect Xmas gift for the climber in your life... Wild Country's Crack School has two of the worlds best crack... Read more
141219
0
F ounded in 1993, Mountain Hardwear are a pretty young mountaineering clothing and equipment manufacturer but are also one of... Read more
141216
0
The release of Peter Jackson's new film The Hobbit: The Battle of the Five Armies on 12th December may not appear to link to... Read more
141212
0
Rock shoes stink – let's face it. Boot Bananas are the perfect way to fight the funk and keep them fresh. They help... Read more
141219
0
On Saturday 13th December Greg Boswell and Guy Robertson kicked off their Scottish winter season early by making the... Read more
141218
0