| | |
| --- | --- |
| | / Entering Tibet form Yunnan |
This topic has been archived, and won't accept reply postings.

Hello All,

I found some information that says is possible but does anyone have first hand experiences of entering Tibet by car/bus form the Zhongdian in Yunnan???

Thanks for your help!!!

In reply to
Constantinos Andreou:
There are regular buses and flights (I think daily) between Zhongdian and Lhasa. However foreign passport holders need a permit to enter most regions in Tibet. From my experience the permit could be sorted out locally within a few hours from where you get your ticket (that's from Golmud in 1996 though). Nowadays agencies do online services too. Perhaps you can get more up to date info from someone like these guys? I believe they are just an agency, nothing to do with the official railway company.
http://www.chinatibettrain.com/zhongdianlhasa.htm
In reply to
Constantinos Andreou:
By road it's not simple as its a huge military zone. Markham is said to be the largest military base in the country.
And, it's a long long way, 4 or 5 days.
Get in touch with Jason at Hei Wai Trails in zhongdian. They have the resources and logistics in place.
In reply to
Constantinos Andreou:
Where do you want to go within Tibet?
I suspect trips from Katmandu to the Everest Region are relatively easy with tour companies.
I entered Tibet from Golmud in 1992,and it was extremely easy, we required a pass to travel via Everest Base Camp, this was easy to obtain. We traveled by bus from Golmud to Llasha (3 days) and then cycled on cheap Chinese Mountain bikes to Katmandu via Everset.
In reply to
Constantinos Andreou:
I was up near there in Oct 2011 and had been twice before. You still could not get through the road border independently then, though of course some tours can do it. A friend drove right up to the border post last year and got turned around. So, short of hiding in a truck (uncomfortable, dangerous etc) I doubt it is feasible. There is a lot of road building, hydroelectric and other work going on in the region, though Deqen is still a complete sihthole, but they're still refusing climbing permits for the peaks up beyond the check post (to foreigners, as of a month ago) so I guess they're not keen on visitors, still.
In reply to
Constantinos Andreou:
Where are you trying to get to? The likes of Eastern Nyenchen Tanglha are more easily reached via Lhasa. That said, I remember there is a town West of the Tsangpo Gorge that was also quite difficult to pass through 'un-officially'. As mentioned previously, Markham is notoriously difficult to pass through without proper paperwork. You would need to be on a tour if crossing into Tibet from Yunnan. I haven't been to Yunnan in years but I remember the overland tours this way were horrifically expensive (10 years ago). One of the hotels in Kunming also used to arrange but I rembember I couldn't take their quote seriously when I enquired.

In reply to
Big Lee:
that would have been the Camelia Hotel. and yes, absurd prices.
its still about $500 ea for a group of 4 depending on detours, but that covers jeep, crappy hotels, bribes etc. 3 people is much better per jeep, and 2 per jeep if youve got a lot of gear.
theres no way youd get thru to lhasa from kunming on the most direct route without speaking good mandarin, having a lot of extra cash and looking chinese. even the easier backdoor routes thru sichuan are near impossible if done under the radar; you cant stay in hotels, hang about towns, be seen at check points, meaning you end up in grotty tibetan truck stops not knowing how long it will take. not a lot of fun if youre trying to get anywhere.
plus, these days, permits are checked in lhasa. before they were just transport permits to get in, now they are permits to be there and checked at hotels.
groups like haiwei have been doing tthe route from yunnan for years and have it all worked out, with translators etc. if youre not going to fly just use them.
$100 - $200 a day isnt too bad, and if you get stuck in the middle of nowhere, turned back or handed over to the PSB you will think its all worth it. SE tibet isnt shangrila, its hard travelling, and without advanced experience in the region not a place to take lightly. some of the passes are way above 4000m and remote.
---
This topic has been archived, and won't accept reply postings.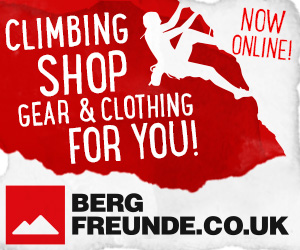 Elsewhere on the site
On Saturday 13th December Greg Boswell and Guy Robertson kicked off their Scottish winter season early by making the... Read more
141218
0
This years ROCfest will be slightly different. We've decided to run a Climbing Festival, not just a competition! Over... Read more
141216
0
The Epicentre Mega Winter Sale starts in store 9am Christmas Eve. We have a great selection of in store only deals from... Read more
141218
0
F ounded in 1993, Mountain Hardwear are a pretty young mountaineering clothing and equipment manufacturer but are also one of... Read more
141216
0
With four photos in this week's top ten, and a UKC gallery of stunning images we thought it was time we had a chat with... Read more
141203
0
---