| | |
| --- | --- |
| | / Guiding aspirations - but not the usual... |
This topic has been archived, and won't accept reply postings.
Hi guys,

So I've been alpine climbing for a good few years now (don't bother with my log on UKC, haven't updated it in years), and I'm not too far off the pre-requirements to apply for the IFMGA scheme (thinking ENSA, not BMG as I don't live in the UK and moving to France in a month!). Thinking of a career change since alpinism has been the only constant in my life for quite a while. I find myself in a position of reasonable alpine experience and almost zero commitments at the moment. For background, I've been working in the outdoor industry for about 6 years and 'guiding' friends informally (unpaid and well within my experience of course).

I'm wondering about potential work as a Guide beyond bringing climbers and skiers on recreational tours. In other words, as a technical advisor or Guide on purposeful trips such as working with scientific expeditions in the arctic/antarctic, and guiding laypeople (as in, non-climbers) on mountainous terrain outside of the usual recreational sphere most Guides seem to work in.

I'm wondering, how much work is out there of this nature for UIAGM guides? An example might be say, a team of geologists getting to a remote location in the antarctic or perhaps glaciologists/surveyors bringing equipment to high mountain locations such as was done in Nepal on a peak-measuring trip a number of years ago.

Any thoughts?
Thank you!
In reply to
stratfol:
First of all, do you have a good level of French? Have you thought about the French guide's selection process? (It has been/is in the process of being revamped but will still be highly competetive.) Do you have the required level for the rock and ice and particularly the ski selection tests. You'll be up against over 200 other candidates and that number has to be reduced to about 40, so competition will be fierce. I'm not trying to be negative, just giving you an idea of the lottery that is the French selection process. I know two Brits who have successfully gone through the French scheme. You may know them... if you don't, email me and I'll give you their names and emails and they can advise much better than me. One of them actually works for ENSA.
In reply to
jon:
Hi Jon, thanks for the reply! My french is currently quite poor, just what I've picked up over my few seasons in Cham so far, and of course I would expect fluency to be assumed before applying? I'll be moving over in August to live with a french friend near Nantes for a few months, in a small town where apparently almost nobody speaks any English, so looking forward to being thrown right into it and dedicating myself to the language for a while. Just to give a vague timescale, I don't expect to apply for at least another 2 years so hopefully my language skills will be up to scratch by then.
The area which I'm lacking is the ski. I'll be spending the winter in Val d'Isere, then moving to Cham around April/May '14. The plan is to work full time while skiing and climbing as much as possible to get up to the standard. I'm aware of the highly competitive nature and standards of ENSA and that it will for sure take x amount of seasons of very hard work to get to that standard. I'm also aware I'll be up against french who have skied since they were 5 and tied in not long after! I'm also aware that meeting the pre-requirements for BMG puts you in a great position for acceptance as there is far less competition than ENSA. I've been reading into it and indeed read about that two Brits (and two Americans?) have been through ENSA, but I'd love to get contact info and get in touch with them.
Basically I'm happy to move out there indefinitely and take as long as it takes. Technical ability on rock/ice shouldn't be a problem. It's the late start (I'm 25) with the French and Ski that could be a barrier.
Of course I wouldn't dismiss BMG, as the qualification is fully transferable, just stating a preference I suppose. I moved away from the UK a long time ago and (please no offence!!!) the French life is just much more 'me' I guess, plus I have so many more connections and half a life there already.
In reply to
stratfol:
> and (please no offence!!!) the French life is just much more 'me'

Why would I take offence? I moved here over twenty years ago!

In reply to
stratfol: I;m on the UK scheme. The skiing on the french scheme looks very very hard. Get out with someone who can assess the level your at it seems to be hard to learn when older but I'm no expert. In the current UK intake quite a few live in cham and have simply gone to scotland and wales for the required seasons.
---
This topic has been archived, and won't accept reply postings.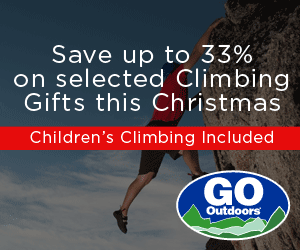 Elsewhere on the site
The release of Peter Jackson's new film The Hobbit: The Battle of the Five Armies on 12th December may not appear to link to... Read more
141212
0
The Epicentre Mega Winter Sale starts in store 9am Christmas Eve. We have a great selection of in store only deals from... Read more
141218
0
On Saturday 13th December Greg Boswell and Guy Robertson kicked off their Scottish winter season early by making the... Read more
141218
0
F ounded in 1993, Mountain Hardwear are a pretty young mountaineering clothing and equipment manufacturer but are also one of... Read more
141216
0
This years ROCfest will be slightly different. We've decided to run a Climbing Festival, not just a competition! Over... Read more
141216
0