| | |
| --- | --- |
| | / Tete Blanche - Petite Fourche and Aiguille Du Tour |
This topic has been archived, and won't accept reply postings.
Hi!

I'm looking to do; Aiguille du Tour North+south Summit and then either the day before or after Tete Blanche East ridge then continue up Petite Fourche N Face/NW ridge. Has anyone got any information on the above peaks and know the current route/glacier conditions? and any idea of the quality of rock for Aiguille du Tour?

I'll be heading out to Chamonix in just over a week for my second Alpine trip (first not guided) and these mountains looked like a good option.
I'd appreciate any advice as I've only spent a few days on glaciers so was hoping to keep the glacier approach simple while I build up experience... Also, any advice on which hut to stay in? I have a few different guide books that recommend either Cabane du trient or refuge Albert premier. The approaches to the climb seem to be simple for each so am happy to go on which have better views or nicer a atmosphere?


If anyone would like to suggest routes/mountains that are maybe better for a first Alpine climb I'd be interested to hear suggestions? The reason I picked the ones above were the glacier approaches looked simple enough, they shouldn't be crowded, and don't require any long exposed rock climbs (I'll be climbing with my Dad who is not a rock climber and can get nervous on exposed rock routes... though he did make it up Afterthought arete at stag rocks in the Cairngorms this winter without too much moaning). I did look at doing Pointe Isabella via the normal route but have been told that the Glacier is tricky late in the season when the crevasses are exposed, has anyone else found the same?

Thanks for any advice!!
Jon

In reply to
JAOADMS:
Others are far more expert than me here; but this seems a sensible plan to me
I feel Pointe Isabella would be more a more serious proposition than the routes you describe over the Tour glacier, less other parties too in terms of crevasse rescue security (not that you should count on other parties, etc, etc
When are you planning to be in Cham?
Peter
In reply to
JAOADMS: I did Pt Isabella in a snowy July and it was fine but still a fair bit harder than the Tour/Petite Fourche lot.
The Domes des Miages traverse is a nice PD, a bit more involved than the tour but super scenery and easier than Pt Isabella. After the miages try the Midi-Plan, but that's harder and more committing again.
In reply to
JAOADMS:
L'Aiguille du Tour is a good safe climb and by the normal route easy rock climbing. The rock isn't brilliant but it's a very popular peak. I've only used the Albert 1er hut for this area as I've always camped in the Chamonix valley. The glacier approach is straightforward but requires a rope as it is snow covered. I like the Albert 1er but it can be crowded, others prefer to camp above the hut but if you phone to reserve a place it makes for a more comfortable stay.
In the area the Aiguille Purtscheller is pleasant by the S ridge but is a short rock climb. The Chardonnet is the main attraction nearby but is a more serious proposition. There are some photos of the area on my ukc album and my website from a couple of summer trips to the Albert 1er and one spring time one.
In reply to
JAOADMS:
Hi, I have done the tete Blanche and petite fourche in the last 2 weeks. Although we did the tete Blanche by the north face, so I can't comment on the ridge route, you will pleased to know that the descent is basically non-existent, just a very short, easy snow slope to the glacier du tour (you start at a lower elevation and climb up to just above glacier level). The approach involves a small scramble over the col du tour... Worth leaving Albert 1er as early as 3 to catch the sunrise over Switzerland from the col... Incredible. As for the petite fourche; easy snow climb, not steep or long, but a really cool summit, with a great view over several glacial basins, and a nice spot to sit! The glacier du tour is not very crevassed at all, especially along the left side ( as if ascending) where you will be, so of course be careful, but it isn't too stressful. The summits both have great views, shouldn't be too busy, and the approach/descent aren't too taxing. Enjoy.
S
In reply to:

PeterBlackler: Thanks. Of course I would never plan to use other parties but understand the feeling of security having other people around! I'll be in Cham from Sunday for two weeks, however I wont be just Alpine climbing, I hope to get in some lower altitude long rock routes as well.

LakesWinter: Thanks for the routes suggestions... Domes des Miages looks perfect to do with my Dad, hopefully we can find an extra couple of days.

BruceHooker: Aiguille Purtscheller does look like the sort of route I'll be looking to do... but just with a partner who has a bit more experience on rock. For Aiguille du tour could we get away with a 30M rope? From what I've seen (and that the rock is only graded II) it looks like the climbing is very simple with no need for longer abseils, but I have two guides, one that mentions nothing about abseils or crossing the bergshund and another that says "possible 50m abseil to cross the bergshund"?

Strachan: I really like the idea of catching the sunrise from col du tour, we'll have to make it an early start like you suggest! Your description makes the route sound perfect for us, thanks! Would you recommend entering the plateau via col du tour and not Fenetre du pissoir? The two guide books I have recommend both...



In reply to
JAOADMS:
I can't remember abseiling on the way down, the snow goes most of the way up the East side so it's a question of scrambling down to the snow IIRC. There could be a bergshrund sometimes but I don't think so, it's a standard training climb from the Albert 1er hut.
I always take a 50m half rope on this sort of climb, just in case you need to abb a bit, but also because I haven't got a 30m one and wouldn't cut one just to save a little weight :-) I'd advise taking a normal 50m rope on any climb personally.
---
This topic has been archived, and won't accept reply postings.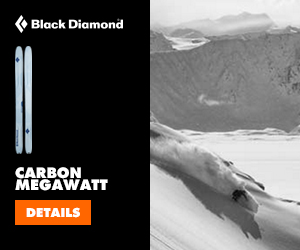 Elsewhere on the site
Will Sim and Andy Inglis have made the second ascent of VIII,9 on Ben Nevis, followed by Will making a rare... Read more
141222
0
Perhaps the perfect Xmas gift for the climber in your life... Wild Country's Crack School has two of the worlds best crack... Read more
141219
0
At a bar in Llanberis an old man chimed in And I thought he was out of his head Being a young man I just laughed it off When... Read more
141203
0
F ounded in 1993, Mountain Hardwear are a pretty young mountaineering clothing and equipment manufacturer but are also one of... Read more
141216
0
PowerFingers is a simple, easy to use product which is incredibly effective for Climbers who require finger strength and... Read more
141222
0
---