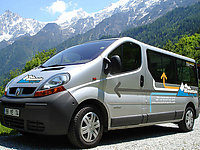 Airport transfer specialists Mountain Drop-offs launch UKC Promo Code for travel between Geneva Airport and Chamonix this summer.
Book online at
http://www.mountaindropoffs.com
using Promo Code UKC13 for 27€ per person each way Super Saver fare. Applies to travel before 15 September 2013.
Mountain Drop-offs for shared and private transfers from Geneva Airport to resorts across the French and Swiss Alps.
In reply to
Sue Roberts:
The code doesn't seem to work for me....
In reply to
alansage: Hi. Sorry you've had problems with the code - when you are booking online select the Super Saver fare option and that should do the trick for you. If you have any further problems don't hesitate to drop the team a line at info@mountaindropoffs.com and they'll get it sorted for you. Thanks
In reply to
Sue Roberts:
Its a bit of a miserly discount - €1.50 and still not the cheapest!
They aren't the cheapest, but from my experience they are very good. Had bad experiences with other cheaper transfers.
I certainly recommend these guys, and will use again myself.

This code is not available.I am vain to active this code.