| | |
| --- | --- |
| | / Sanitised MTB routes in the peak |
This topic has been archived, and won't accept reply postings.
Chapel gate, Stanage causeway, bits of Houndkirk road, Bradley lane between Pilsley and Hassop, Mill lane between Stoney Middleton and Eyam, and now the track leading down from the big quarry on Longstone Edge into Rowland (mentioned in the White Peak MTB guide as one of the best 10 downhills in the White Peak) have been turned into tarmac or flat gravel tracks in the last couple of years.

Whilst I appreciate that damage has accumulated over the years and does need management, the character of many of these routes has been significantly degraded, at least in my (by no means hard-core MTB) opinion.

Is there no way of improving these tracks - some of which were admittedly practically unrideable in sections (but that's part of the fun...) - which doesn't completely sanitise them? Are there any MTB groups which talk to the Peak Park authorities to ask them to perhaps resurface them with slightly less zeal? Are there any more gems soon to be taken from us?


In reply to
dondon:
I thought they were resurfaced like that to deter offroaders and/or trail bikes - by deliberately making them boring to ride.
In reply to
dondon:
These are all By-ways and green lanes aren't they? it's a shame, especially as I think it will lead to more abuse of bridleways by motorbikes and 4x4s
In reply to
dondon:
I think the wind and rain and bikes and feet will probably erode them eventually, the Stanage Causeway (upto Stanage Pole at least) is starting to be eroded again.
In reply to
dondon:
Ride Sheffield does what it can, but as the letter linked above show, the councils have statutory obligations which totally disregard the interests of mountain bikers.
The visual impact at Stanage bothers me, along the possibility we will see more and faster traffic on it, but not so much the work itself - in it's current state it's no fun to ride up or down.
Tracks do rough up over time, and maybe the best we can do is just adapt and be flexible. For example having Chapel Gate climbable means the Kinder loop is now entirely rideable clockwise, but not exactly easy.
Mill Lane ? - Riley's Grave is much better anyway
And can someone tell me when Cavedale gets sanitised - did it yesterday but without much grace !
In reply to
Chris the Tall: A few walkers I've talked to appreciate it being smoother though. I tend to focus on the scenery when I'm there, and you can still get there faster than walking.
There's worse things than sanitised tracks...
---
This topic has been archived, and won't accept reply postings.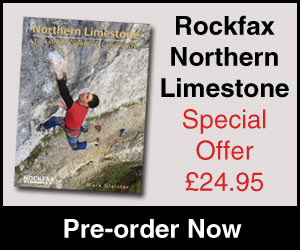 Elsewhere on the site
F ounded in 1993, Mountain Hardwear are a pretty young mountaineering clothing and equipment manufacturer but are also one of... Read more
141216
0
Perhaps the perfect Xmas gift for the climber in your life... Wild Country's Crack School has two of the worlds best crack... Read more
141219
0
PowerFingers is a simple, easy to use product which is incredibly effective for Climbers who require finger strength and... Read more
141222
0
With four photos in this week's top ten, and a UKC gallery of stunning images we thought it was time we had a chat with... Read more
141203
0
Will Sim and Andy Inglis have made the second ascent of VIII,9 on Ben Nevis, followed by Will making a rare... Read more
141222
0
---