| | |
| --- | --- |
| | / Climbing north of Rome |
This topic has been archived, and won't accept reply postings.
Going on holiday in a weeks time, to Viterbo, which is about an hour north of Rome.
Mainly on a family holiday, but hoping to squeeze an odd days climbing in ifi can!
Looking on the UKC find crags map, it looks like there is a couple of sport crags within a few hours drive, but just wondering if anyone knows of any other sport/trad/bouldering/scrambling in the area that would be worth a visit?
Cheers
In reply to
joesmith: the only area I've visited extensively is ferentillo, which is nisce enough and gives several days of climbing across a range of grades. the guidebook is to be had from the sports shop right in the village, and the first routes start virtually at the dorr of your car. good spread of grades, but probably reasonably hot that time of the year.
the guidebook mentioned also includes a range of minor climbing areas in the vicinity, but I have no experience there ...
have a nice journey, thomas
In reply to
tjekel: thanks thomas, ferentillo definitely looking like a good option, well done finding that link to an italian website with the guidebook, but think i will be lucky if it would arrive before next weekend.
Is there much single pitch stuff? As will be with my girlfriend and she is not keen on multi-pitch!
In almost everything is single pitch, if you manage 5c-ish there should be stuff for a week with walk-in times from 20" to 20'. Have fun!

In reply to
joesmith: In reply to joesmith:
Hello there
The heat could be a bit of a problem but you have a good few options if you have transport available.
For info on routes look on Falesia.it and you should be able to find plenty of info to help you make a choice.
To stay cool I'd go up into the mountains if you could and have a play around Gran Sasso. A day on the Paretone should keep you happy for multi pitch work or equally you could both have a lot of fun scrambling and doing the via Ferrata to get up Corno Grande and Corno Piccolo (which also has lots of shorter routes). Plenty of other options but a quick google on summit post or similar should give you an idea of the places above.
You also have a bit of bouldering near you in Viterbo at the top of the biggest hill you can see looking east, Monte Cimino which is nice and shaded by Beech woods so may be worth a look.
Anyhow plenty of stuff about, just needs transport.
Hope you enjoy the area,
Dan
---
This topic has been archived, and won't accept reply postings.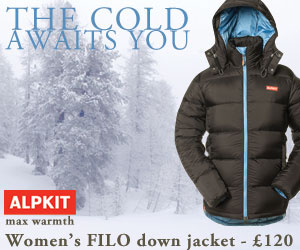 Elsewhere on the site
Rock shoes stink – let's face it. Boot Bananas are the perfect way to fight the funk and keep them fresh. They help... Read more
141219
0
With four photos in this week's top ten, and a UKC gallery of stunning images we thought it was time we had a chat with... Read more
141203
0
Perhaps the perfect Xmas gift for the climber in your life... Wild Country's Crack School has two of the worlds best crack... Read more
141219
0
F ounded in 1993, Mountain Hardwear are a pretty young mountaineering clothing and equipment manufacturer but are also one of... Read more
141216
0
Tonight's Friday Night Video features the Norwegian town of Rjukan, once believed to be the home of the world's tallest... Read more
141219
0