| | |
| --- | --- |
| | / Doug Scott Lecture, Wrexham, North Wales |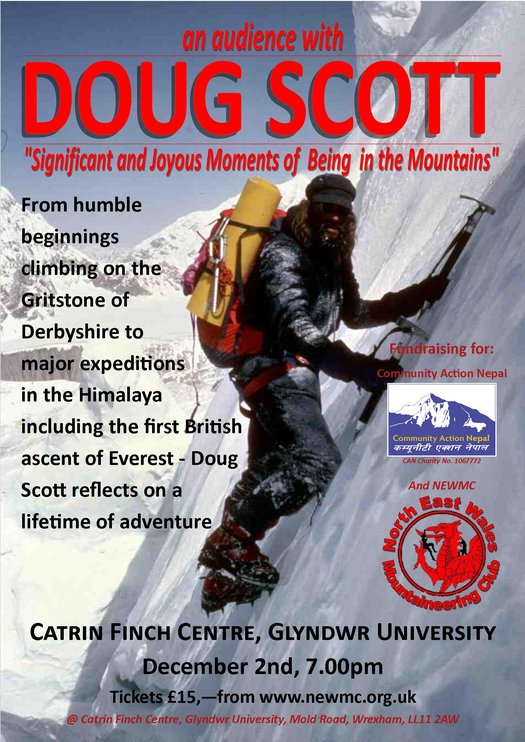 Significant and Joyous Moments in the Mountains
The North East Wales Mountaineering Club are proud to host Doug Scott CBE as he gives his new aclaimed lecture, "Significant and Joyous Moments in the Mountains" to a small audience of just 220 in North Wales.
This lecture will raise funds for Doug's own charitable venture, Community Action Nepal, as well as for the North East Wales Mountaineering Club.
This brand new lecture, lavishly illustrated with Doug's celebrated mountain photography, gives a very personal account of a lifetime spent in the world's highest mountains – both the highs and the lows.
The lecture will cover Doug's big wall climbing from humble beginnings on the gritstone of Derbyshire, through to routes on the big walls of the world.and discuss Doug's expedition climbing from early overland trips to North Africa, Turkey, Kurdistan and the Hindu Kush to Everest South West Face, Kangchenjunga, Nupste, Shishapangma and K2.
Doug Scott CBE – Biography
Doug Scott has made 45 expeditions to the high mountains of Asia. He has reached the summit of 49 peaks, of which half were climbed by new routes or for the first time in Alpine style. In 1975 he became the first Englishman to climb Everest with Scotsman Dougal Haston. Apart from this South West face of Everest climb during Chris Bonington's Expedition , he has made all his climbs in lightweight or Alpine Style, without the use of artificial oxygen. In 1979 he made the first ascent (and only the third ever) of Kangchenjunga, the world's third highest mountain without bottled oxygen. He has reached the highest peaks on all seven continents – "the seven summits".
He is a past President of the Alpine Club and an Honorary Member of the American Alpine Club. He was made a CBE in 1994, received the Royal Geographical Society Patron's Gold Medal in 1999 and the Piolet d'Or Lifetime Achievement Award in 2011.
Doug has long recognised that these achievements crucially relayed on the support of local mountain people, porters and Sherpas. In 1998 he therefore founded the charity Community Action Nepal www.canepal.org.uk which today has over 40 on-going community welfare projects reaching 250,000 people, including operating nine schools, seven health posts and building two porter overnight shelters.
For tickets, please visit the club's website,
http://www.newmc.org.uk,
where you will be redirected to the Glyndwr University Ticket Handling site.
In reply to
Cookie (North East Wales MC): Concessions tickets are now also available online
In reply to
Cookie (North East Wales MC): Just had a confirmation on ticket sales, and they're going pretty quick now. There's only a limited number left, so if you're planning on coming, I'd encourage you to buy your ticket ASAP, while you still can - from www.newmc.org.uk
In reply to
Cookie (North East Wales MC): Tickets still available, either online, or through the box office to avoid the booking fee:01978 290666
In reply to
Cookie (North East Wales MC):
Really looking forward to this. Limited tickets left get them now to avoid missing out!
In reply to
Cookie (North East Wales MC):
It's come around Quickly - the talk is tonight.
Still some tickets left, so if you've not got one yet, you might be able to get one on the door, obviously, first come first served, so try to be early if you can, there's a bar, so don't worry about having nothing to do while you wait!!!!
See you there
---

Elsewhere on the site
The release of Peter Jackson's new film The Hobbit: The Battle of the Five Armies on 12th December may not appear to link to... Read more
141212
0
Tonight's Friday Night Video features the Norwegian town of Rjukan, once believed to be the home of the world's tallest... Read more
141219
0
Perhaps the perfect Xmas gift for the climber in your life... Wild Country's Crack School has two of the worlds best crack... Read more
141219
0
Rock shoes stink – let's face it. Boot Bananas are the perfect way to fight the funk and keep them fresh. They help... Read more
141219
0
F ounded in 1993, Mountain Hardwear are a pretty young mountaineering clothing and equipment manufacturer but are also one of... Read more
141216
0