View latest messages in My Forums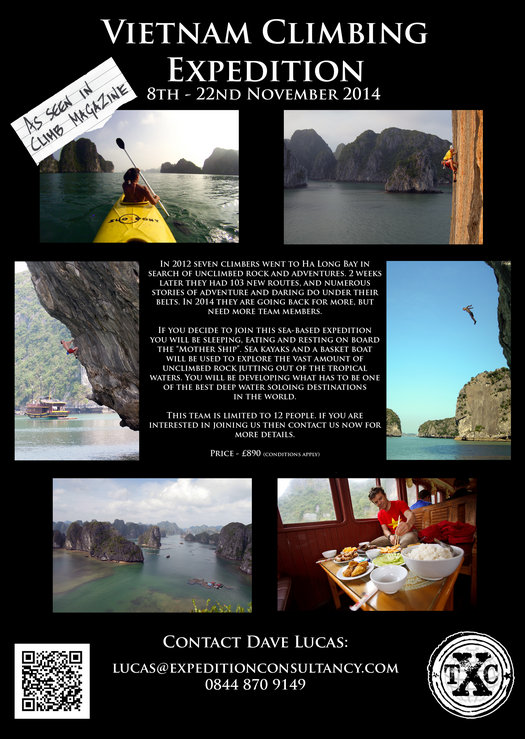 Now that the tide information has been published for the Ha Long Bay area 2014, we have now been able to confirm the dates of our upcoming Vietnam expedition as the 8th - 22nd of November 2014. There are still a couple of places left, so we are looking for climbers to join our team. If you fancy 2 weeks of sea based tropical climbing on routes possibly untouched by human hand, then you can contact us via the forum or email us at lucas@expeditionconsultancy.com
Climb Magazine have just published an article that tells tales of our adventures on our 2012 trip to the area:
"A forest of white spires crested by jungle crowns floats on the jade-green water of Vietnam's Ha Long Bay, one of the world's most exciting and exotic climbing areas. Last Autumn, Mike Hutton and a team of explorers set sail in search of pirates & dragons among the unclimbed limestone towers of the South China Sea."
You can see more images from our 2012 trip on our Facebook page. Like us at:
https://www.facebook.com/TheExpeditionConsultancy
http://expeditionconsultancy.com/wp/2013/03/vietnam-2014-climbing-expedition/
Neil Gresham has just given us all his route information from his trip with Tim Emmett, Seb Grieve & Grant Farquhar to Ha Long Bay in November 2003. This expedition was reported in the "Good Morning Vietnam" article in Climber. Now we believe we have all the info for climbs that have been climbed in the last 10 years. So we will start the 2014 expedition armed with all the knowledge to make this a great trip. Neil also gave us some great images from this trip and has kindly let us post them on our Facebook page.
https://www.facebook.com/TheExpeditionConsultancy
---
My Forums