| | |
| --- | --- |
| | / Lake Tahoe skiing Dec - Heavenly? |
This topic has been archived, and won't accept reply postings.
I'm planning to ski for 2 days (over a weekend) in the Lake Tahoe area just before Christmas. Is Heavenly the best resort to go for and does anyone have any not-too-pricy accommodation recommendations? Thanks!
In reply to
Alison:
Went there years ago, and went on a package trip, so no real advice to give directly. But Tahoe itself is split right down the middle with the California / Nevada state line. So dont be drawn to where all the ski chalets are,that is probably high-end expensive. You might be able to get some cheaper accommodation in the big casino complexes(!) on the Nevada side.
I got trolleyed most nights for free inside the casinos and only bet about $3 on the slots since they gave booze away free. They might have a similar attitude to lodging.
Worth a gamble? ....err...you know what I mean.
In reply to
Alison: Hit and Miss. Over Xmas it is around $100 a day to ski, and when we went in 2011, there was no snow - only man-made crap.
Crazy expensive, generally. There are loads of "resorts" around the lake - some may have a better micro-climate on a given day than others.
Heavenly is the biggest, but places like Squaw, Northstar and Kirkwood are worth a pump.
The hills are full of fat Texan gapers whit wads of cash. Not quite Glenshee!
In reply to
macstinator: Oh, and accom wise, Nevada side is cheaper - but not by much.
We got a self-catering condo. Nothing is cheap, tho. I thought Heavenly was a bit of a shithole. Get yourself to the casino on the border for the buffet. They literally wheel the fatties in!

In reply to
Alison:
The weather can swing to exremes. A few years ago I went to South Tahoe,and stayed in a motel in heavenly. The night we arrived it was minus 15 degrees and started to snow, the storm lasted 36 hours and when it finally stopped snowing we had had a dump of 8 feet. For the first morning the resort was paralyzed, but the snow ploughs quickly got the main road clear creating a high berm in the middle making it difficult to cross as a pedestrian. We couldn't ski for 2 days because it took that long to get the ski area open again and the avalanche risk was very high.
When the lifts eventually got running again we enjoyed incredible powder for a couple of days, although the snow was so soft and so deep getting on your feet again if you fell was a real challenge. It was best to ski in pairs so that you could pull each other up if one other fell.
Then it suddenly got very mild, and a big thaw set in, with heavy rain, even at the top. The snow changed to slush or concrete, and was difficult and very wet to ski for a few days, before the temperature on the higher slopes gradually dropped below zero again.
I remember going up one day on the lift. It was raining in the valley and my clothes got wet. As the lift rose up they froze, and were like stiff cardboard when I got to the top.
That night the temperatures dropped well below zero again and we had another very heavy dump. Once more the resort closed down for a couple of days whilst they dealt with the snow.
We were going to drive to Squaw Valley which we heard was open, but the road closed due to avalanche risk so we spent an enjoyable day in Kirkwood instead.
My other memory was of constantly having to put chains on the car or taking them off, sometimes in freezing sub zero temperatures, sometimes in rain and slush.
Make certain your hire car includes chains and take a pair of marigold gloves for chain fitting!
I've been told this sort of erratic weather pattern is not unusual due to the relative proximity of the Pacific Ocean.
In resort we found the best places for eating out were the casinos most of which did good buffets. There is an excellent ski bus service around the resort and linking with the Nevada ski area.
When it rains there isn't a lot to do other than pump the slot machines in the casinos!
Enjoy
---
This topic has been archived, and won't accept reply postings.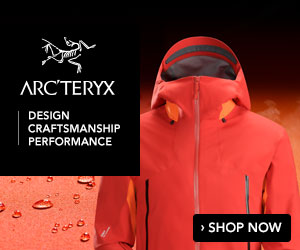 Elsewhere on the site
F ounded in 1993, Mountain Hardwear are a pretty young mountaineering clothing and equipment manufacturer but are also one of... Read more
141216
0
At a bar in Llanberis an old man chimed in And I thought he was out of his head Being a young man I just laughed it off When... Read more
141203
0
Tonight's Friday Night Video features the Norwegian town of Rjukan, once believed to be the home of the world's tallest... Read more
141219
0
Perhaps the perfect Xmas gift for the climber in your life... Wild Country's Crack School has two of the worlds best crack... Read more
141219
0
Rock shoes stink – let's face it. Boot Bananas are the perfect way to fight the funk and keep them fresh. They help... Read more
141219
0