| | |
| --- | --- |
| | / leida - options if it rains |
This topic has been archived, and won't accept reply postings.
I'm heading out to Leida on 1 Jan. Forecast is a bit iffy. I've been twice before and got the impression that the wet weather options are limited unless you can climb hideously hard on the very steepest crags.

If it craps out I'm going to be looking for somewhere with a sheltered aspect or capping roof and routes in the 6a-7a range. Don't mind even a fairly long drive if it gets me to somewhere reliable for the day. I'm staying in Vilanova de Meia.

Any suggestions please?
In reply to
colin struthers:
Hi Colin,
I don't think the forecast is overly pessimistic for the next few days ó Saturday aside you shouldn't get more than the odd shower.
Unfortunately though, you're basically correct in stating that the majority of Lleida crags on which it's possible to climb in the rain only feature routes from the mid 7's upwards.
Off the top of my head the only stay-dry 6's I can think of are the short climbs in the Disblia caves in Sant LlorenÁ de Montgai, which are quite pleasant though nothing special.
On the other hand, there are plenty of crags which dry out very quickly in the area around where you're staying: La Pauta, Cubells, AlÚs de Balaguer, Abella de la Conca, etc., etc. Vilanova de Meiŗ itself also comes into this category.
Pete.
In reply to
Pete O'Donovan:
Margalef might be an ok option if it is light rain. It has a few 6a-7a ish routes that are fairly steep.
In reply to
flaneur:
Arrived this pm, staying at Casa Cirera in Vilanova which I would definitely recommend.
Forecast has improved and Saturday looks like the only day we'll get rain, when I think we'll head to La Selvas, Camarasa which looks ace
Many thanks for the suggestions
Colin

In reply to
colin struthers:
I climbed today in abella de la conca, yesterday in futbolin dt linya which stays dry during rain dependent on the wind direction, bruixes terradets the day before, cubelles the day before. All dry dispite huge fog/drizzle in the tremp/isona area for the last few days.
---
This topic has been archived, and won't accept reply postings.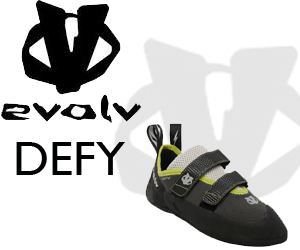 Elsewhere on the site
Tonight's Friday Night Video features the Norwegian town of Rjukan, once believed to be the home of the world's tallest... Read more
141219
0
The release of Peter Jackson's new film The Hobbit: The Battle of the Five Armies on 12th December may not appear to link to... Read more
141212
0
F ounded in 1993, Mountain Hardwear are a pretty young mountaineering clothing and equipment manufacturer but are also one of... Read more
141216
0
Rock shoes stink – let's face it. Boot Bananas are the perfect way to fight the funk and keep them fresh. They help... Read more
141219
0
Perhaps the perfect Xmas gift for the climber in your life... Wild Country's Crack School has two of the worlds best crack... Read more
141219
0
---