| | |
| --- | --- |
| | / Walking 1050 miles round wales for shelter |
Posting on behalf of my mum....
I love walking and wanted a challenge. Also I have been passionate about the work of Shelter ever since I can remember. May be it is because much of my life I have been a walker with my tent on my back. I have been wet and cold on many occasions but it has been my choice and I have always had a lovely warm house to return to. When I decided to circumnaviagate the welsh boarder it was obvious that the charity I would choose to benefit from my adventure would be Shelter Cymru.
I plan to walk all the way round Wales. Leaving home on St David's day and walking North up Offa's Dyke path to Prestatyn then all the way around the coast (including Anglesey) to Chepstow and finally along the southern half of Offa's Dyke home to Llanfairwaterdine.
1050 miles and 10 weeks away from home! staying in a variety of places. Some hostels, sometimes in a camper van with my husband or a friend and very often on my own in a tent.
Please help me to help Shelter Cymru to help prevent homelessness and assisst people who become homeless.
Please visit and like my facebook page
https://www.facebook.com/WalkontheWelshSide
or my virgin money giving page
http://uk.virginmoneygiving.com/fundraiser-web/fundraiser/showFundraiserProfilePage.action?userUrl=R...
Thank you for any support
In reply to
dmor9:
Her boots will be properly broken in after that!
Good luck.
In reply to
dmor9:
walking the coast in these storms,all power to you
In reply to
dmor9:
shes leaving tomorrow morning (1/3) at 09.00 and she'll be gone for about 70days!
thank you to those of you who have donated or even offered accommodation along route!
Shes hoping to update the face book and virgin giving site as often as mobile signal will allow so keep an eye on her progress.
dave
In reply to
dmor9:
Today rebecca will reach Prestatyn having walked Offas dyke path north from Knighton. Now its the coast path all the way round to Chepstow before heading north back to knighton.
So Thats 100 miles down just 950 left to go! next milestone is menai bridge and a quick lap of anglesey!
In reply to
dmor9:
Rebecca stayed with us last night. She's doing very well, particularly as she's self-supporting and her rucksack is almost as big as she is! This is a great effort for a good cause - give her some encouragement - donate or at least go and carry her rucksack for an hour if you live near the coastal path!
---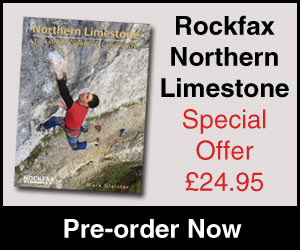 Elsewhere on the site
Rock shoes stink – let's face it. Boot Bananas are the perfect way to fight the funk and keep them fresh. They help... Read more
141219
0
F ounded in 1993, Mountain Hardwear are a pretty young mountaineering clothing and equipment manufacturer but are also one of... Read more
141216
0
The release of Peter Jackson's new film The Hobbit: The Battle of the Five Armies on 12th December may not appear to link to... Read more
141212
0
Perhaps the perfect Xmas gift for the climber in your life... Wild Country's Crack School has two of the worlds best crack... Read more
141219
0
Tonight's Friday Night Video features the Norwegian town of Rjukan, once believed to be the home of the world's tallest... Read more
141219
0
---