| | |
| --- | --- |
| | / Bivi bags for summer bikepacking |
This topic has been archived, and won't accept reply postings.
Hi all,

I'd like your recommendations for bivi bags that would be suitable for summer bikepacking for a lanky get (i.e. Mr TC). Comments on any to avoid would also be good.

Thanks in advance!
In reply to
Tall Clare:
I use a Marmot Alone Alone bivi (the two hooped variety) for my winter mountaineering. At 800g its light and my 6'4" self fits in easily with room to spare for boots and other bits.
The hoops mean it is not very cramped and rather pleasant to stay in.
There is a pic of it in my photo gallery.
Only thing is, it can be hard to get the two hooped variety in the UK - usually there is no rear hoop. But I contacted Marmot directly and they sorted one out for me.
Post edited at 15:09
In reply to
Tall Clare:
Mesh door is an absolute must to stop the biting nasties, and allow you to vent on a warm summers night. I never got a good nights sleep fully sealing up a bivvy in summer temperatures at valley levels.
A pole at the head end helps air flow and stops the fabric touching your face, which always kept me a wake at night.
Bivvy bags (even double poles ones) in prolonged rain are miserable. Cheaper non goretex ones doublely so.............
I bivvied for years but final went for a light tent, more comfortable, space to change out of the rain, somewhere to sit up, cook and read ect.
If you are still interetsed in a bivvy I have a mountain range double hooped bivy for sale, olive green, goretex, about 1.2 Kg's, but there are some pin holes in the base; £50. Cheaper way to try the idea out than spending £250+ on a new one.................
Occasionally, usually high up on a still clear night bivvying is excellent.
In reply to
Tall Clare:
Have you considered rigging a tarp off the bike instead?
I flipped mine upside down and then rigged a tarp off with a few tent pegs and some paracord. Gives the bike a bit of protection, makes it harder to steal, and the air breeze keeps you nice and warm. I survived some pretty hefty downpours but not the dreaded mozzies - so I'd double it with a mosquito net. I had considered buying a hennessy hammock (or similar) and then just using it as a tarp and mozzie net when there weren't any suitable trees. Could be a lighter option for 2 people than two bivi bags.
In reply to
Tall Clare:
Is he really set on a bivvy bag? I reckon a tarp is better and you always have the bike to use to set it up on if you have no trees. Sleeping in the rain in a bivvy bag is miserable, under a well pitched tarp it can be ok.
But on bags - Alpkit do an XL one I believe that many seem to rate highly.
In reply to
Tall Clare:
I like the tarp+bivy option. Seem to get a better nights sleep than in a tent.

In reply to
Oo:
+1 for the Hennessy. Excellent piece of kit.
---
This topic has been archived, and won't accept reply postings.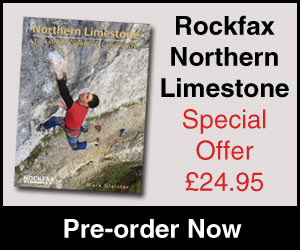 Elsewhere on the site
At a bar in Llanberis an old man chimed in And I thought he was out of his head Being a young man I just laughed it off When... Read more
141203
0
Rock shoes stink – let's face it. Boot Bananas are the perfect way to fight the funk and keep them fresh. They help... Read more
141219
0
Perhaps the perfect Xmas gift for the climber in your life... Wild Country's Crack School has two of the worlds best crack... Read more
141219
0
F ounded in 1993, Mountain Hardwear are a pretty young mountaineering clothing and equipment manufacturer but are also one of... Read more
141216
0
Tonight's Friday Night Video features the Norwegian town of Rjukan, once believed to be the home of the world's tallest... Read more
141219
0
---