| | |
| --- | --- |
| | / Gr 10 or Cape Wrath in may |
This topic has been archived, and won't accept reply postings.
Hello all. I have the later half of May off and am trying to formulate a plan for a long distance hike/run. I've read a lot about the Gr 10 and it seems that much of it will not be doable in may due to snow cover. I'm wondering whether this is true for everyone or just those walkers un-used to snowy conditions. I.e as a winter climber will the high paths be ok, would I need an axe and crampons or would skis be more use at that time?

Another thought I had would be some variation on the cape wrath trail.

Has anyone done either or both and could give me a little advice please?

Thanks,
Luke
In reply to
big john:
Re: GR10, I am afraid I have to give you the "it depends". The problem with late spring in the Pyrénées is that it is quite unpredictable, it can be quite warm and the GR10 will be easy, or it can be cold and you will find some snow. Some parts of the GR10 were still under deep snow in June last year. Most probably you will find a few portions covered in snow and most completely dry.
I was in the central Pyrénées last week, with more than 1 meter snow at 1500 m. Ok for one day without skis or snowshoes but otherwise painful. But then you still have to carry the skis over the parts where there will be no snow... Now will the snow last until May? Hard to tell.
It is certainly still doable, but changing from snowshoes (rather than skis for me) to crampons to nothing over one week would annoy me. Usually the season for the GR10 is between end of June and late September.
Depending how long you want to go, you can maybe pick low-altitude parts of the GR10 where finding snow in May would be very surprising - 180 km from Hendaye to la Pierre-St-Martin for example
(And there are winter climbers in the Pyrénées as well)
In reply to
big john:
Hi John. If you want to get an idea of what the conditions may be like then have a look at my write up of my trip there in June last year. It was a very snowy year but this year may be similar. May would also seem to be a good time for the Cape Wrath Trail. No midges. Howlingmist.blogspot.com and look for June last year.
Thanks for the advice guys, think I might be leaning towards Scotland, and save France for later in the year.


In reply to
big john:
Do the Cape Wrath Trail you won't regret it, it's wonderful.
---
This topic has been archived, and won't accept reply postings.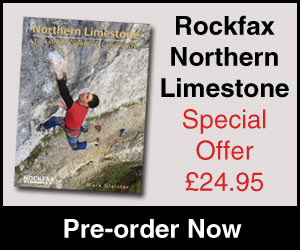 Elsewhere on the site
Perhaps the perfect Xmas gift for the climber in your life... Wild Country's Crack School has two of the worlds best crack... Read more
141219
0
Tonight's Friday Night Video features the Norwegian town of Rjukan, once believed to be the home of the world's tallest... Read more
141219
0
Rock shoes stink – let's face it. Boot Bananas are the perfect way to fight the funk and keep them fresh. They help... Read more
141219
0
With four photos in this week's top ten, and a UKC gallery of stunning images we thought it was time we had a chat with... Read more
141203
0