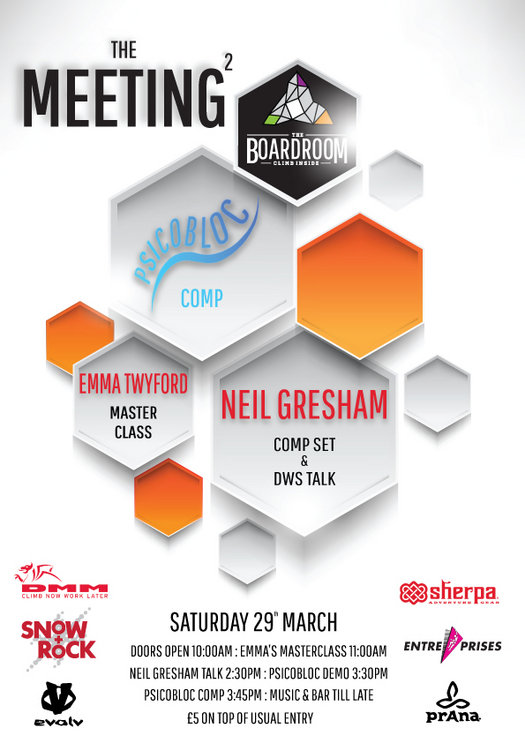 Starting off the day
DMM
sponsored climber
Emma Twyford
will be here to run a
master class
in the morning.
Emma moved over to North Wales during the winter of 2012 and proceeded to crush many of the classic boulder problems. By September 2013 she was all over the climbing press after becoming only the 2nd British female to climb the magic grade of E9 by making the 5th ascent of Leo Holdings route "Rare Lichen" E9 6c.
If you fancy taking part in her master class which starts at 11:00am, please call us or email
hello@theboardroomclimbing.com
to reserve a place.
After lunch
Neil Gresham
, sponsored by
Sherpa
, will be giving a talk.
"Neil is one of Britain's most well known all-round climbers. He is equally at home on rock or ice and is one of the few climbers in the world to have climbed the coveted grade of E10, with his second ascent of the notorious Equilibrium on Derbyshire gritstone. His enthusiasm for climbing spans between Deep Water Soloing and 'sport-style' chalk climbing, and his recent exploits have taken him to destinations such as Sweden, Brazil, Mongolia, Cuba, Vietnam, China and Colombia in search of new rock."
Following his talk both climbers will demo the comp routes on the psicobloc before the comp begins (3:30pm).
Psicobloc Comp:
This is a fun comp with 5 lines/rounds, starting at F6c. Competitors have two attempts and must top out to move onto the next round.
Lot's of great prizes from
Sherpa
and
DMM
DMM
will have their "gear breaker" with them; a demonic machine with the sole task of destructing gear to let you know just how strong it was, or wasn't! We certainly have some old bits of personal kit lying around which probably should have been retired a decade ago, and now we will find out if we should do!!
Sherpa
will have a selection of clothing from their fantastic technical and casual range.
Snow & Rock
will be here with some great bargains and sale items!
Matilda's Bakehouse
will be providing pizza from lunchtime onwards with liquid refreshment from
The Sun Trevor
mobile bar. Both will run well into the evening so get ready for a late one ;-)
Entry £5
on top of your normal entry fee for an all out action packed day of climbing goodness; easily part of your 5 a day!!
Facebook event page -
https://www.facebook.com/events/533015056814724/
The Boardroom - 01244 537 476

email - hello@theboardroomclimbing.com
Links
The Boardroom
-
http://www.theboardroomclimbing.com/
Neil Gresham
-
http://www.neilgresham.com/index.php
Emma Twyford
-
http://emmatwyford.com/
DMM
-
http://dmmclimbing.com/
Sherpa
-
http://www.sherpaadventuregear.com/
Snow&Rock
-
http://www.snowandrock.com/store-wirral/content/fcp-content