| | |
| --- | --- |
| | / cairngorns, highlands conditions at Easter |
This topic has been archived, and won't accept reply postings.
Hi, are we expecting there still to be winter conidtions at Easter in Scotland?
In reply to
mc2006:
Easter is very late this year so its anyones guess what the conditions will be like then. There is a huge amount of snow down so its very likely there will still be enough to climb in the major gully lines, if its cold enough. That time of year is not normally much cop for mixed routes although the major ridges on Ben Nevis can still be in condition, normally people will be climbing neve and ice based climbs.
Generally the later in the season the higher the venue to get good conditions and the less variation between west coast and east coast regarding temperature at munro level (as the atlantic has cooled down).
The northern corries are not that high really well compared to the Ben anyways, which is why people typically head over to Ben Nevis late season, well that coupled with the fact that most years Ben Nevis does tend to attract the most snow and therefore tends to hold on to it later (and transform more of it to ice).
One issue you may have is that the cornices above the major gully lines that are still holding snow may still be at least partially intact and that time of year is prime for them to collapse. People are describing them as serac like this year so take care!
Cheers,
Stevo
Post edited at 13:52
In reply to
CurlyStevo:
ok thanks for that. I will wait nearer the time i suppose and see, its either scrambling in the Lakes or up to Scotland to do some winter routes if the conditions are good enough
In reply to
mc2006:
I just added a fair bit more to that post after your reply BTW.
In reply to
mc2006:
Contact me nearer the time if you want recommendations for last minute bunk houses (or indeed campsites), I used to live in Scotland and never failed to find somewhere to stay and pretty much never booked more than a day or two ahead!
I agree staying flexible if you can is the way forward.
Post edited at 14:10

In reply to
CurlyStevo:
yes that would be great mate. Roll on Easter so I can get away from the city for a week!
Cheers
---
This topic has been archived, and won't accept reply postings.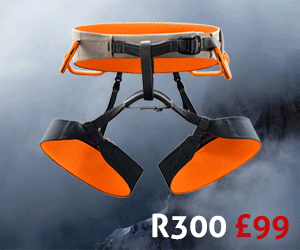 Elsewhere on the site
This Winter Conditions page gives a summary of what is being climbed at the moment, what is 'in' nick and what the prospects are... Read more
Rock shoes stink – let's face it. Boot Bananas are the perfect way to fight the funk and keep them fresh. They help... Read more
141219
0
Perhaps the perfect Xmas gift for the climber in your life... Wild Country's Crack School has two of the worlds best crack... Read more
141219
0
The release of Peter Jackson's new film The Hobbit: The Battle of the Five Armies on 12th December may not appear to link to... Read more
141212
0
F ounded in 1993, Mountain Hardwear are a pretty young mountaineering clothing and equipment manufacturer but are also one of... Read more
141216
0
Tonight's Friday Night Video features the Norwegian town of Rjukan, once believed to be the home of the world's tallest... Read more
141219
0