| | |
| --- | --- |
| | / Achilles problems? |
This topic has been archived, and won't accept reply postings.
I'm not sure whether this is the right place for this topic but maybe someone can help anyway.

So my ski season more or less ended last week and yesterday I put on my hiking boots for the first summer hike. The path I walked was fairly direct up and down and on the way back to the car I noticed I started to get some pain in the back of my heel. I noticed the same problem when I used some winter climbing boots back in the start of March, but the discomfort disappeared again since I only been using skiing boots again for the last few months for all mountain trips. I was wondering whether there are any other ski tourers who have experienced the same problem i.e. pain in the heel which only shows up with hiking/mountaineering boots but not ski touring boots? I am a little confused and am not sure whether this is a possible achilles problem or not.

Does anyone have any suggestions about how to alleviate the discomfort next time I want to use my hiking boots?
In reply to
Hannah V:
I can have similar with some climbing boots or walking boots which are too tightly laced for walking.
I don't use the top lacing eyes for walking now, but do so for ice climbing slacking them off as soon as I have finished climbing.It seems if I use the top lacing eyes it grips my achilles too much.
In reply to
Hannah V:
Assuming it is an achilles problem there are a few things to do that I was shown by a physio :
1) Don't wear flat shoes (e.g..deck shoes) and consider putting insoles in other shoes.
2) There are a couple of simple stretching exercises that you can find on the internet to stretch out your calf.
http://www.runningwithhaynes.com/2012/10/12/stretching-routine-for-runners/
Do the first two (gastroc and soleus) stretches 3x30 seconds daily,
3) strengthen achilles by doing heel raises on the stairs (3x30 secs)
Don't overdo the stretches. If you can afford it go to a physio anyway in case there is something else going on..
My achilles is fine during the (downhill) ski season but plays up when I'm hillwalking and climbing and these things generally fix it.
In reply to
Hannah V:
PS. If you want more replies, at this time of year put the question in the hillwalking or training forums.
Super, thanks for all the tips! I'll give all the suggestions a try and hope that it solves the problem :)
In reply to
Hannah V:
Hi Hannah
Do you have a supportive arch footbed in you ski boots? If you do, but don't use one in your normal walking boots it may explain why you don't have the same problem in your ski boots.
It could be Plantar Fasciitis
http://www.patient.co.uk/health/plantar-fasciitis-leaflet
A good supportive footbed which is suitable for your feet can help, no guaranteed fix but well worth a try.
Cheers
Phil
In reply to
Hannah V:
You could try using a small heel raise under the heel of your existing insoles. Debatable whether that will fix the problem (weak/tight achilles) or just be a workaround that avoids the problem.
---
This topic has been archived, and won't accept reply postings.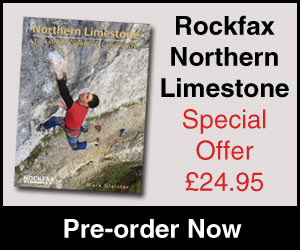 Elsewhere on the site
Perhaps the perfect Xmas gift for the climber in your life... Wild Country's Crack School has two of the worlds best crack... Read more
141219
0
At a bar in Llanberis an old man chimed in And I thought he was out of his head Being a young man I just laughed it off When... Read more
141203
0
Rock shoes stink – let's face it. Boot Bananas are the perfect way to fight the funk and keep them fresh. They help... Read more
141219
0
F ounded in 1993, Mountain Hardwear are a pretty young mountaineering clothing and equipment manufacturer but are also one of... Read more
141216
0
Tonight's Friday Night Video features the Norwegian town of Rjukan, once believed to be the home of the world's tallest... Read more
141219
0
---