| | |
| --- | --- |
| | / opening an indoor bouldering wall |
This topic has been archived, and won't accept reply postings.
Following the trend of indoor boulder walls opening up over the last 5 years or so, and seemingly doing quite well. I think I've identified a place outside the UK where a works/depot style place could do very well. So I'm looking to the legendary UKC public for advice.

Is it simply a case of getting a long term lease on a suitable building, in a suitable location. Buying scaffolding, boards and mats, then enlisting an army of mates to build it?

I know I need to consider H&S and insurance. But is there anything I may not have considered? Or any advice at all that anyone can offer?

The idea is still very much in its infancy and any advice would be massively appreciated.
In reply to
joshen:
Absolutely no experience in this area but have often pondered the possibility of opening such a place. So for me the factors you have mentioned are important - location, suitability of building, parking and access, etc.
I guess inside the design would have to be well thought out to make the best use of space to provide variety of climbing and for facilities.
Must be some legislation to get through too?
Anyway, good luck with it!
In reply to
joshen:
You don't say where you are so it's hard to know how much support is available for setting up a new business locally but it'd be worth your while finding out. There may be grants and you may be able to get help researching and developing a sound business plan assuming one can be made, you'll struggle to access finance without one.
To me the actual building of the wall seems the least of the challenges, it's the business side of things that's much more daunting.
Questions I'd be asking myself:
Where can I get good, relevant advice and information?
What might a suitable property cost and are any available?
What are the lease options and the risks associated?
What might it cost to build including professional fees and a website?
What else might it cost to run: Finance, tax, rates, insurance, training, staff, maintain, advertise, accountancy, music licences, utilities etc etc?
What might it take from climbers in and out of season?
What might it make from other groups, schools, kids clubs etc?
How else might it make money, how much and what would you need to invest?
What are the risks?
How vulnerable would you be to competition?
Who will actually run it, are they willing to work antisocial hours?
Who will set and maintain it?
How can the plan be improved?
How can the plan be made less risky?
jk
In reply to
joshen:
Is there and will there continue to be sufficient demand in the area from people who would be willing to pay enough for you to make a worthwhile profit, based on realistic set-up & running costs?
In reply to
joshen:
Thanks a lot to everyone who has replied.
Obviously the business side of things would need to be fully planned. I'm confident in there being a market as there is a nearby wall that does well, but is small and only routes. There's also a large population and a lot of money. One thing that I've noticed with the trend of boulder walls opening is that a lot of new people have taken to bouldering, but I understand that could be slow to pick up.
We'd be looking to keep costs down by building as much as possible ourselves. What concerns me is any hidden costs that I may not realise until it's too late.
Thanks for any advice at all
Josh
P.s. I may be paranoid, but would rather not give a location as I think there's such a gaping niche in the market there.
In reply to
joshen:
Just have lot of kid-friendly climbing for birthday parties lol

In reply to
joshen:
Hopefully I can help a bit, I'm currently opening a new wall, and we've been through the mill a bit over the last year or so.
You mention 'outside of the UK' so I can't comment on H&S & insurance etc. Unless you're being presumptive and you mean Scotland, and if by gaping niche you mean Fort William then hands off :P.
main bit of advice: Look very, very carefully at the building you choose, think about accessibility, renovation requirements, toilet provision, storage space etc. Can you get a scissor lift in to do the wall building? (Note - scaffolding is not the way forward). We've gone down the nice old church route, and since starting that I can see the appeal of a nice industrial unit with four 90degree corners! Bear in mind in the UK any new project will need to be accessible, have building regulation toilet provision, ventilation and all these things - most climbing walls opened in the last 30 years would not be allowed to open as they are now for these reasons so don't assume 'well that worked at X so it must be fine'. Also, really do your maths about what work it makes sense to do yourself, a new startup business can afford to raise money but you cannot afford surprise costs, and working with professionals you will get less of these. Plus, the cost of a wall isn't exorbitant, the matting and work around it is!
Obviously the business case is important, again look at the numbers very carefully. So as to not go into too much detail here I'd be happy to chat through what we've learnt from the opening project phase, just drop me a PM if you want.
Oliver.
---
This topic has been archived, and won't accept reply postings.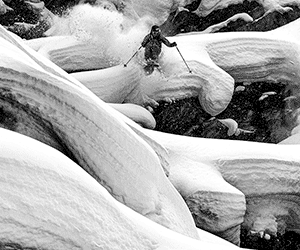 Elsewhere on the site
At a bar in Llanberis an old man chimed in And I thought he was out of his head Being a young man I just laughed it off When... Read more
141203
0
Rock shoes stink – let's face it. Boot Bananas are the perfect way to fight the funk and keep them fresh. They help... Read more
141219
0
On Saturday 13th December Greg Boswell and Guy Robertson kicked off their Scottish winter season early by making the... Read more
141218
0
F ounded in 1993, Mountain Hardwear are a pretty young mountaineering clothing and equipment manufacturer but are also one of... Read more
141216
0
Perhaps the perfect Xmas gift for the climber in your life... Wild Country's Crack School has two of the worlds best crack... Read more
141219
0
---