Hi. I'm looking at getting a Sony RX100 II mainly for climbing and outdoor photography, along with general use.

Has anyone got any experience as to how tough they are, and how susceptible they are to moisture damage?

Also does anyone have any recommendations for cases, methods for tying a camera to yourself on routes, and general looking after one whilst climbing.

Any advice about the camera, or not breaking one when climbing would be much apprecaited.

Thanks in advance.

Matt
In reply to
Matt250:
I have the original one; Have dropped off the top of a climb, about 17m, I now use it taking phots when Kayaking, so it does get wet and so far no problems
Post edited at 15:13
Thanks. I'll obviously try and look after it....but I don't want it to break easily because of a damp bag, or knocking it on some rock when its in my pocket.
In reply to
Matt250:
Mine (mk1) has survived being dropped onto rocks a few times and plenty of soakings during Scottish winter. I keep mine in a small lowepro case, which is clipped to a screwgate, I then attach the camera to this screwgate with some very thin chord
Post edited at 18:00

In reply to
Matt250:
I have been quite surprised how robust the rx100 II has been.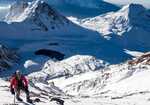 http://www.ukclimbing.com/images/dbpage.html?id=235341
https://www.flickr.com/photos/radson/14267737392/
https://www.flickr.com/photos/radson/11041451994/