| | |
| --- | --- |
| | / JOB: Ropes Manager, Detail Events |
Gary Tompsett
on 10 Mar 2009 -
user-54440405.lns1-c10.dsl.pol.co.uk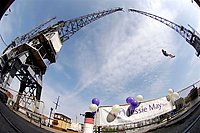 UK ADVENTURE EVENTS MARKET LEADER SEEKS EXPERT ROPES ACTIVITIES MANAGER
Job Start Date: 30/03/2009.
Seasonal retained contract package at £7000 with opportunities for extra incomes and possibility of growth into full-time role
Detail Events
is the UK market leader in adventure sport events. You will responsible for selection, liberation, rigging and management of ropes venues and all aspects of roped operations at all 9 of its
Rat Race UK
and
Ireland Urban Adventure
events.
This role will include pre-event reconnaissance, liaison with City authorities and liaison with Detail Events internal event production staff and contractors, chiefly the Rat Race Course Planner/Director who will direct ropes venue leads towards the Ropes Manager. It will also include purchases and management of an inventory of in-house ropes and associated equipment as well as recruitment of ropes crews of up to 10 technicians per event at designated locations. A mobile crane will sometimes be used to offer abseil activity and you will be responsible for the safe operation of the ropes descent from this vehicle, working alongside the crane operator.
You should have strong inter-personal skills and be able to work under pressure, as part of a team, to strict deadlines and budgets. You must be expert in planning and in the technical aspects of rigging public roped abseil and similar scenarios, and comfortable with negotiations and consultations with venue landowners and facility managers – though these are frequently accompanied by Detail Events team members. These negotiations will always result in documentation conclusions, so familiarity with Risk Assessments, Method Statements and similar formal H&S documents is essential. Experience of zip wires is also attractive, although not essential.
The opportunity may extend to other work in the outdoors and/ or urban locations, during or after this retained period. You will also be offered entry into the company's business development incentive scheme, whereby you may earn commission from business development you bring to the company.
The Rat Race events take place on the following weekends;
Birmingham
30/31 May
Brighton
13/14 June
Bristol
27/28 June
Edinburgh
18/29 July
Sheffield
25/26 July
Belfast
8/9 August
Newcastle
29/30 August
Galway
5/6 September
London
26/27 September
Each event requires one or two site visits several weeks prior to the event then a full weekend at each event; Saturday through to end of Sunday, over long hours. Some events require a pre-rig on the Friday, but this is rare. The further aspects of the role described above are conducted at more flexible times. A work base near our York office is not a strict requirement, although a remote home base would not be an economical solution as good travel links are essential and frequently required for this role.
This role will suit those with a strong background in public-facing ropes activity and will also favour those who have experience of work in urban locations, be that under the IRATA scheme or otherwise.
We seek a minimum MIA qualified person, although strong candidates with IRATA qualifications who lack the MIA will also very much be considered.
All enquiries should be marked with "ROPES RETAINER APPLICATION", with attached covering letter and CV, and your name clearly marked in the email title.

Deadline for applications is the 30th March 2009.
Emails to;
Gary Tompsett;
gary@allinthedetail.com.
Website references;
www.allinthedetail.com
and
www.ratraceadventure.com
Context:
'In 2004 the Rat Race sought to establish urban adventure racing on the UK scene. Unusually, ropework is a core activity here, alongside cycling, running, kayaking, orienteering and many other urban pursuits. Since the inaugural event in Edinburgh, events have been established in 8 more cities with the latest event in Sheffield promising to have more ropework and climbing than any other event to date. In 2008 the Rat Race landed in Melbourne, Australia and with more cities planned there, and on other continents, the Rat Race's expansion continues. Since 2004, over 5,000 participants have enjoyed roped activity during these audacious and exciting events.

Course design and the incorporation of outstanding roped activity crucial in maintaining both interest for the participant and also maintaining media and general public passion for the event. Detail Events are now seeking a retained Ropes Manager to liberate the very best of each cities locations for 2009 and beyond. To look back at past years, reveals a plethora of fantastic venues; football stadiums, bridges, viaducts, gantry traverses, Tyrolean's, industrial buildings, public buildings, purpose built scaffold rigs and even skyscrapers.

Each event is designed to have its own distinct flavour to allow each to grow year on year as entities in their own rights, as well as spokes of a highly organised and integrated series.

Our success in these cities to date has included hugely popular courses that have been acclaimed by competitors, together with excellent competitor numbers and good local media. In 2009 it is our aim to grow further the competitor entries, maintain excellent standards of course design, safety and excitement for the racers and to introduce new angles to the course. This role will suit a person that wants to grow this adventure with us.'
---