View latest messages in My Forums


This topic has been archived, and won't accept reply postings.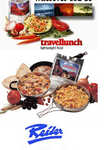 Lightweight and affordable tasty freeze-dried meals. Breakfast, dinner and dessert - soup for starters if you like. Travel Lunch meals have been used by expeditions worldwide, and are popular with trans-Atlantic rowers and yachtsmen & women. They are light to carry, take up very little space, and have a long shelf life. Available at most outdoor shops in the UK.
Quite a selection too: Pasta Carbonara, Smokey Bacon with Mash & Peas, Beef Stroganoff, Chicken Korma Curry & Rice to mention just a few. Finish with Wild Berry Yoghurt Dessert?
Hungry? Want to try some? We'll have a word with Stephanie at Spring PR. Post on this thread if you are up for some samples.

Catch is of course, not only do you have to try Travel Lunch but once you have tasted you must report back to us all - honestly!
Read more at http://www.ukclimbing.com/gear/news.php?id=1842
...
not showing 45 replies to this topic
...
Register as a New User
or login to gain full access to the forums. Registration is quick and completely free.
If you are definitely logged on, press Ctrl+F5 keys to reload this page [
read more
]

Unregistered users can only read messages in the most recent topics.

---
This topic has been archived, and won't accept reply postings.
My Forums