Click to view latest messages in all forums

This topic has been archived, and won't accept reply postings.
Topic - NEW ARTICLE: VIDEO: Ben Heason on Order of the Phoenix E8
by - UKC Articles
on - 19 Oct 2009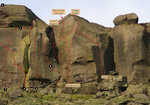 At the end of September, Miles Gibson climbed a new gritstone E9 at Wimberry. Whilst Miles concentrated on his new line, his climbing partner Ben Heason managed a rare repeat of the hard route Order of the Phoenix (E8 6c) at the same crag.
Speaking about the route Ben said:

"Physically it's the most sustained hard grit route I've done so far with no particularly easy moves on it. The climbing is highly technical, often with tenuous footholds and a crux slap up the arÍte from a 1-finger pebble (by which time the gear/rope is redundant), culminating with taking a small pebble in each hand to make a super high step to a smeary top-out."

Read more at http://www.ukclimbing.com/articles/page.php?id=2152
... not showing 29 replies to this topic ...
Register as a New User or login to gain full access to the forums. Registration is quick and completely free.
If you are definitely logged on, press Ctrl+F5 keys to reload this page [read more]



Unregistered users can only read messages in the most recent topics.
---
This topic has been archived, and won't accept reply postings.

[top of page] - [forums latest]