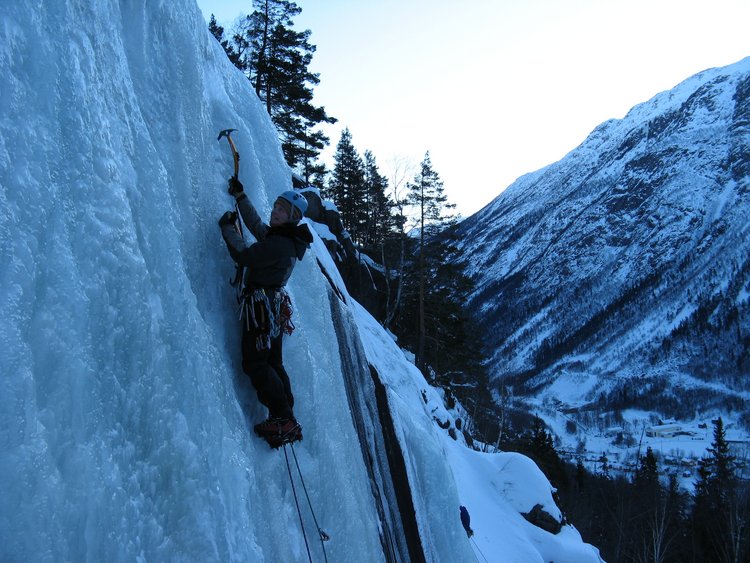 Ice Climbing in Norway 2011

Sunday 16th January – Friday 21st Jan
Interested in learning how to climb ice safely and efficiently? Never had the opportunity in Scotland? This could be the perfect opportunity for you. The MCofS is proud to announce their first international ice climbing training week to be held in Rjukan, Norway.
We are offering a 5 day training course, staffed by experienced and professional instructors.
The actual programme is very flexible; with your instructor basing the week around the prevailing climbing conditions, taking into account individual needs and aims, weather, ice conditions etc; but may include the following: -
Individual coaching, to develop your ice tool placement, body positioning and crampon use on steep ice.
Climbing at a variety of locations, the course will cover movement on a variety of ice including, brittle, plastic or featured ice, chandeliers and pillars.
Placing protection will be looked at in detail, from screw placement on the lead to construction of belays and retreating from routes via abseil using Abalakov threads.
Lead climbing strategies for climbing single and multi pitch ice climbs, including psychological preparation and route choice.
Staff to student ratio will be 1:2; there will be a max of 10 people on the course.
Cost of course £600. (This course is subsidized by £200 per student from the Mountain Safety Trust). The course fee includes 5 days tuition, self catering chalet accommodation and all travel whilst in Rjukan. It DOES NOT include return flights to Norway, travel to Rjukan from your arrival airport, food or your personal insurance. We may be able to assist with the loan of some equipment.
Who can apply?
Members of the MCofS who are experienced summer and winter hill walkers. You must also have experienced some summer rock climbing. Successful candidates will also show commitment to passing on the skills they learn whilst on the course to other MCofS members.
Interested?
Contact Heather Morning
msa_mcofs@hotmail.co.uk
01479 861241 for further details and an application form.
Closing date for applications is 31st July 2010