| | |
| --- | --- |
| | / NEWS: A Summer Climbing Festival |
This topic has been archived, and won't accept reply postings.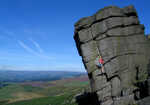 Fancy a weekend in the Peak?
Climbing, watching the world's best climbers competing against each other, and socialising at Alpkit's Big Shake Out...a campsite with a difference within walking distance to Cliffhanger and next to some of the UK's best cragging? Read on.

Read more at http://www.ukclimbing.com/news/item.php?id=55513
In reply to
UKC News: what happens if they shake out more than three times?
murdster
on 14 Jun 2010 -
cpc2-gate9-2-0-cust510.gate.cable.virginmedia.com
In reply to
UKC News:
Instead of 'hanging out', they can 'generally have fun'!
I bet when she reads this article she's grateful that her Americanism was excused.
In reply to
UKC News:
I like the look of this - is it worth travelling from Kent though?
Chris
In reply to
Chris Ellyatt:
If you can make the most of the weekend, i'd say so
Leave work Thursday 16.00pm sharp, car ready to go, fueled and packed.
Arrive at about 20.00pm listen to a few bands and grab a few beers. Not to late though you have a busy day. If that isn't your thing then you could easily grab a few hours bouldering.
Friday - Be the first to arrive at plantation car park. The crags wont be busy so you could count on doing a full day routing, how does 50 routes sound? 15mins drive back to the shakeout ready to grab some nosh and sit down with a well earned drink, finally watch some films and doze off in the corner.
Saturday - Head down to millhouses park, it's about 20min walk through the trees. Watch some of the bouldering and grab a bit of lunch. In the afternoon pick out a crag you never been to,
http://www.ukclimbing.com/logbook/crag.php?id=133
If you like a party head back to the shakeout site, if not there are plenty of decent pubs with nice views to spend a summer evening.
Sunday - Late but not too late a start, it's Pick and Mix day if you can do at least two of our top ten low impact activities then you should have pretty good day before your drive back.
Alpkit's top ten low impact activities you can do from the Big Shake Out.
Breakfast at Grindleford and climb at Froggatt
Catch the train from Dore station to Grindleford. Head straight into Grindleford cafe and get a pint of tea. Once refreshed take your well coiled rope and climb the hill to spend the day ticking 3 star routes at Froggatt.
Totley Moor by bike
Pump up your tyres to your favourite pressure and nip around our Totley Moor loop. You might want to stop off half way around at the Fox House Inn for an OJ.
World Cup Bouldering
Totter 15 minutes down the road to watch the world's best boulderers compete at Cliffhanger.
Climb at Millstone Edge
Down a coffee and psych yourself up for the 2 minute walk to Ecclesall Road South. Wave down the number 272 bus and stay on it until you get to Millstone. Also stops at Hathersage, Bamford and the Hope Valley.
Round Sheffield Walk
Cross the road to Whirlowbrook Hall to join the Round Sheffield Walk, a fourteen mile walk through the parks, woodland and countryside of south west Sheffield. Do away with public transport completely.
Dark and White Trailquest
Sign up for the Dark and White Trailquest which starts and finishes on the Big Shake Out site.
Woodland discovery
There are many attractions hidden in Ecclesall Woods between the Big Shake Out and Cliffhanger. See if you can find the Abbeydale Miniature Railway, the bird reserve, the saw mill, the industrial hamlet, prehistoric rock art and other archaeological features. Families will find much to do in Ecclesall Woods.
Bouldering at Burbage
Strap on your foam pad and go bouldering in the Burbage Valley.
Ascent of Kinder Scout
The high point of any trip to the Peak District. Pack some sandwiches and hop on the train at Dore station. Sit back and chill until reaching Edale. Strike out towards Kinder Scout, the highest 'point' in the Peak District, which when you finally reach the top you will find isn't so pointy after all.
Eastern Grit Edges Run
Get yourself to Hathersage by bus or train then run back along Stanage Edge, up over Higgar Tor and down into the Burbage Valley. Take a breather at the Fox House Inn (funny how most of these activities feature the Fox House!) before the final push back to the Big Shake Out campsite over Totley Moor. If you are feeling spritley continue from the Fox House around Froggatt and Curbar edges into Baslow. Return to the Big Shake Out on the number 240 bus.
Back to Kent about 21.00pm
How does that sound.
Cheers
Nick
In reply to
UKC News:
Haha ok that sounds absolutely epic! It's a little more difficult as I'm using public transport, so I'd probably have to hitch a lift to the crags! Seriously worth considering though when you put it like that!
Cheers,
Chris

In reply to
Chris Ellyatt:
Or catch the bus to the crags. There are plenty of them.
If you need more persuasion, in the three years that Cliffhanger has run everybody who has filled in a feedback form (a sample of some 1,000 people) has said that they will come again and recommend it to friends :-)
MattH
---
This topic has been archived, and won't accept reply postings.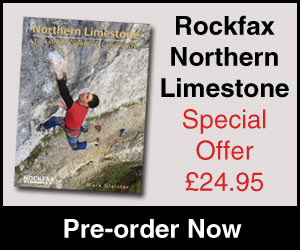 Elsewhere on the site
This years ROCfest will be slightly different. We've decided to run a Climbing Festival, not just a competition! Over... Read more
141216
0
At a bar in Llanberis an old man chimed in And I thought he was out of his head Being a young man I just laughed it off When... Read more
141203
0
The Epicentre Mega Winter Sale starts in store 9am Christmas Eve. We have a great selection of in store only deals from... Read more
141218
0
F ounded in 1993, Mountain Hardwear are a pretty young mountaineering clothing and equipment manufacturer but are also one of... Read more
141216
0
On Saturday 13th December Greg Boswell and Guy Robertson kicked off their Scottish winter season early by making the... Read more
141218
0
---