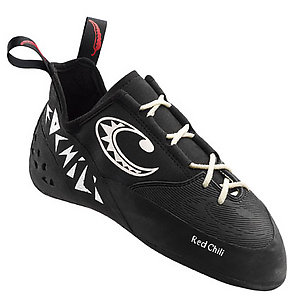 Red Chili's hottest new models can be seen and tested across the UK in March.
And so our dedicated sales team will be burning their rubber criss-crossing the country to let you try to wear out the super sticky RX2 rubber on Chili's latest fantastic creations at a climbing wall near you.
The super sharp new Matador will be ones of the shoes you can try...
At each event you'll be a able to climb in a selection of Red Chili models - from the classic Spirit and Spirit Lady to the brand new MATADOR LACE and HABANERO...
As well as this there'll be free posters, stickers and competitions to enter and everyone who tries a pair of shoes goes into a prize draw to win a pair too.
The dates for our events are:
Glasgow Climbing Center 2nd of March
http://www.glasgowclimbingcentre.com/
The Leeds Wall 10th of March
http://www.theleedswall.co.uk/
Adventure Peaks Climbing Wall Ambleside 15th March
http://www.adventurepeaks.com/news/AmblesideClimbingWall.html
Manchester climbing Wall 16th of March
http://manchesterclimbingcentre.com/
Climbing Hanger Liverpool 17th of March
http://www.theclimbinghangar.com/
Newcastle Climbing Center 24th of March
http://www.newcastleclimbingcentre.co.uk/
Additional Dates Added:
26th March Rock On boot demo at Mile End climbing Wall; Red Chili will be attending the annual ROCK ON rock boot bash,
9th April Rock On boot demo at Redpoint climbing wall Birmingham, try out the hot new Chilis in their awesome new bouldering venue
16th April Red Chili boot demo at The Castle Climbing Centre London from 10am until 5pm
20th April Red Chili boot demo Craggy Island Guildford from 6pm
4th May Red Chili demo at Boulders Cardiff, from 2pm onwards.
You can read about all Chili's new shoes on their website here:
http://www.redchili.de
And you can download Red Chili's latest catalogue here:
http://www.wildcountry.co.uk/Downloads/Catalogues/201011Catalogues/