| | |
| --- | --- |
| | / NEW REVIEW: Arc'teryx R320a Harness |
This topic has been archived, and won't accept reply postings.
"I've always been a bit sceptical of superlight harnesses,"
says
Charlie Boscoe
,
"They look nice but I find it hard to believe that they could be much more comfortable than cheesewire."
"In typical style I instantly took the R320a out ski touring and was extremely impressed, despite it being designed for rock climbing. It was comfortable to the extent that I couldn't even tell I was wearing it, and felt nice and secure on the awkward abseils we had to do to access our couloir. With it still being March, and no rock climbing in sight, its next outing was to climb the North West face of Les Droites..."

Read more at http://www.ukclimbing.com/gear/review.php?id=3739
In reply to
UKC Gear: OK not cheap, but am really intrigued by this new generation of lightweight harnesses.
In reply to
Alex Thompson:
> (In reply to UKC Gear) OK not cheap, but am really intrigued by this new generation of lightweight harnesses.

More information here:
http://www.ukclimbing.com/gear/news.php?id=2919
Lightweight Slimmed Down Harnesses
In the last several years harnesses have seen a similar drop in weight. The first sit harnesses were basically a belt and leg loops made out of webbing - like alpine harnesses today and the Whillans harness (see photo below) of yesterday. To this simple design was added padding for comfort, an array of metal buckles for adjustment, multiple gear loops, rear elastic loops that join the leg loops to the waist belt and in some cases a haul line loop. Harnesses got bulky and complicated, and sometimes uncomfortable.
What climbing companies have done recently is to integrate the webbing waist belt with the padding either by using new materials - BD's Kinetic Core Construction - and/or by splitting the webbing - Arc'teryx's WARP Strength Technology, Petzl's FRAME Technology, Edelrid's laminate technology, Mammut's split webbing technology and C.A.M.P's edge-load construction..

In reply to
UKC Gear:
I treated myself to one of these as a post-finals present recently and although I've only been cragging at Hutton Roof and Trowbarrow over a couple of days, I love it. Incredibly comfortable to wear all day, even when it's warm and great to hang in as well.
I have high hopes that this will do very well as a winter harness too, hopefully taking ice clippers without too much issue. Should be light and non-absorbant enough to make a good winter harness I think. Surely better than the WC Elite Ziplock I've come from, which although I had no issues with (did I mention that the R320a was an impulse buy of sorts?!) was rather chunky and probably not best suited to colder pursuits.
The only problem I have with this harness is the gear loops. They're a good overall design but I'd rather all 4 were the same size. In fact I'd rather there were 5 of them, so I could rack my belay device, nut key and prusiks round the back, but failing that I struggle a little to cram draws and those odds and ends on in such a way as to work with my racking style but still be easily accessible. I guess my racking system will probably adapt in time and I'm sure if you're doing long routes, the HUGE front loops will be a really good point.
So far I really like it and though it was EXPENSIVE, I do actually feel it was worth the cost (unlike, frankly, most other Arc'teryx gear).
---
This topic has been archived, and won't accept reply postings.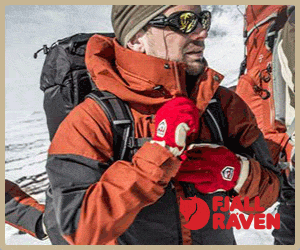 Elsewhere on the site
Rock shoes stink – let's face it. Boot Bananas are the perfect way to fight the funk and keep them fresh. They help... Read more
141219
0
F ounded in 1993, Mountain Hardwear are a pretty young mountaineering clothing and equipment manufacturer but are also one of... Read more
141216
0
With four photos in this week's top ten, and a UKC gallery of stunning images we thought it was time we had a chat with... Read more
141203
0