| | |
| --- | --- |
| | / To Hot Rock or not? |
This topic has been archived, and won't accept reply postings.
Looking at the Hot Rock Trip to South America. I really want to go traveling and Climb in new places and the idea of traveling with a load of new people has got me really interested in the trip. I also need to travel so to get work as an expedition guide with World challenge or similar. I just feel like I could get more out of the money that it costs to go on the trip if i did something off my own back. However I don't have anyone that can just up sticks and leave like I can in Dec. I really like the idea of meeting a new group of people having left Uni last year I really miss that part of my life which is seriously lacking in N.Wales. Sorry for the ramble but I wanted to get across my reasons for going and wondering if I could get similar for less money.
Anyways what are peoples thoughts on the whole Hot Rock trip?
In reply to
thinbennyboy: Personally, I wouldn't stump up that kind of money, but then I'm notoriously tight and hate being on any kind of 'fixed programme'! Having travelled a bit I'd say just go. Pick all the places you long to go, with great climbing and that would be good for that time of year (Arapiles and Castle Hill would be on my list) and just go. You'll meet loads of people, the ones you don't get on with you leave behind but more likely you'll hook up with someone amazing and the rest just falls into place. Just go.
In reply to
mark catcher:
quite.
If you don't want to stump up for the organised trip, pick a well known location, rock up, be sociable and take it from there. Stay in shared accom like hostels or campsites, not in hotels, say hello to whoever and see where it goes. More risky and more productive in the long run. you may have some days where you've no-one to talk to and no partner but on the balance you'll have a better trip.
In reply to
thinbennyboy: There are quite a few places in the world where it is very easy to meet other climbers, with whom may well end up becoming good freinds. I certainly have.
Marks examples are ones. Arapiles in Australia is a great place you can just turn up and meet peolple to climb with on fantastic rock at every grade. However it is geting too hot by the end of Dec and starts to cool down again in the March/April. Elsewhere in Oz it can be pretty hard to find climbing partners as a traveller. Best plan is hook up with some folks at Araps and go off to Tasmania, the Blue Mountains or wherever with them.
Paynes Ford in New Zealand used to be a great place to hook up with fellow climbers to go off on climbing trips round the South Island, easier to meet people there than at Castle Hill itself.
Meeting folks to climb with at the popular venues in Thailand is a doddle too andit makes a good sotp off on the way out or back.
If your heart is set on South America I'm not sure if such climbers meeting places are as common, if anyone knows I'd like to hear about them too.
On the other hand I know quite a few people who have been on the hot rock trips to Africa, they all really enjoyed it and made good freinds, did lots of climbing in places you probably wouldn't just go to off your own back.
On the subject of getting developing world travel expereince to become an expedition leader( like a lot of oher people, I am one)- Oz and NZ don't really fit the bill. To be honest neither does driving around in a big bus on an arranged trip. Independent developing world travel expereince will set you up much better for coping with whatever you have to deal with in your future role. So if that's your main objective then go on an adventurous journey on your own or with a mate and don't just go to western countries on a climbing trip.
You pays your money and you takes your choice. Whatever you do I'm sure you will have a great time. Hope this helps.

I wouldn't describe Hot Rock as an 'organised trip'!! It has a very flexible itinerary and people agree where they want to stop/how long to stay. We did it in Asia and would thoroughly recommend. I don;t know how you could do it for less than they do tbh - the money just about covers cheap accommodation and meals, petrol etc. Remember, because 2 meals a day are included you won't have to spend very much at all once you get there (beer money!). I don't know much about south america, but you'll make so much better use of your time if all the travel/climbing parters are sorted for you rather than having to do it all yourself and find people to climb with.
I'd say do it.
---
This topic has been archived, and won't accept reply postings.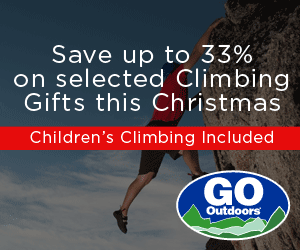 Elsewhere on the site
Will Sim and Andy Inglis have made the second ascent of VIII,9 on Ben Nevis, followed by Will making a rare... Read more
141222
0
The release of Peter Jackson's new film The Hobbit: The Battle of the Five Armies on 12th December may not appear to link to... Read more
141212
0
PowerFingers is a simple, easy to use product which is incredibly effective for Climbers who require finger strength and... Read more
141222
0
Perhaps the perfect Xmas gift for the climber in your life... Wild Country's Crack School has two of the worlds best crack... Read more
141219
0