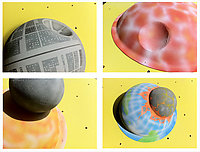 In addition to our main climbing wall manufacturing section, Hang Fast Climbing Walls has developed some of the biggest and most perfectly shaped fibreglass domed volumes available in the UK.
Currently available in 3 basic shapes (domed, shallow domed and semi-domed) these volumes can be easily mounted to any existing climbing surface. As standard the volumes come with our durable textured surface finish and pre drilled, countersunk mounting holes. Ready to use as soon as you take it out of the box! Please feel free to contact us if you have any questions about installing volumes or which types would work best. If you're interested in multiple volumes for a centre or a quote on refurbishing your existing worn/tried volumes, just let us know!
Our volumes come in 3 easy to install sizes: 750mm, 500mm and 250mm (diameter).
Our domed volumes were used at the IFSC Bouldering finals at the Sheffield Cliff-Hanger event.
Web: www.hangfastclimbing.com
Tel: 01274 510448 ask for Rob
Email: rob@hangfastclimbing.co.uk
PRICE LIST – all prices exclude VAT at 20%
Domed Volumes (standard depth)
Large 750mm £85.00
Medium 500mm £65.00
Small 250mm £45.00
Domed Volumes (shallow depth)
Large 750mm £80.00
Medium 500mm £60.00
Small 250mm £40.00
Semi Domed Volumes (per pair)
Large 750mm £90.00
Medium 500mm £70.00
Small 250mm £50.00
Extras are available with all volumes which include:
Flat spot with hold placements – maximum no. 10 per volume.
Recessed pockets – large, medium and small.
Custom paint work i.e. logos, flames, and bubbles.
Check out the photos on our Facebook page for the best custom paints so far