| | |
| --- | --- |
| | / LYON equipment |
This topic has been archived, and won't accept reply postings.
I would just like to thank the guys at LYON equipment, during the summer my petzl myo xp decided to just randomly stop working after deciding it was definitely dead i emailed these guys and explained my situation of being in america and unable to return it till i got home, 2 months later. they were very understanding and said just return it once i had gotten back and they would look at it, anyway long story short and about 2 weeks after sending it off to them they replaced it with a brand new one! brilliant customer service! will definitely be buying more things from these guys in the future

In reply to
joshedwr:
They handled the Grigri2 recall very efficiently too.
In reply to
Charlie_Zero: I agree, mine came back in about 4-5 days.
In reply to
joshedwr:
I recently contacted Lyon with a query regarding Nomic ice axes, they could not have been more helpful. Really good customer service. :)
Ross
I just had a failed Myo XP replaced by return post too - very good customer care.
In reply to
joshedwr:
Yea, another huge thanks to LYON here. Earlier in the summer, I noticed there had been a safety recall on the Petzl Scorpio Via Ferrata lanyards. This was a week before we were heading off to Austria and we have 3 of these sets in the family - I contacted LYON who are the agents for Petzl, explained the problem and they arranged for them to be collecetd from my office and they were checked and returned within 2 days - brilliant service. As it turns out we didn't use them, we spent the whole wee sport climbing but hey ho!

In reply to
joshedwr:
Lyon are very good, but I suspect there is a general fault with the XP myo, and rather than doing a general recall, they are just swapping any that get complained about.
---
This topic has been archived, and won't accept reply postings.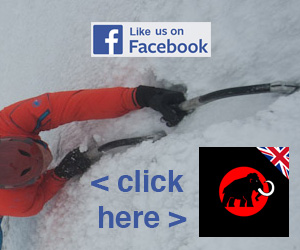 Elsewhere on the site
Perhaps the perfect Xmas gift for the climber in your life... Wild Country's Crack School has two of the worlds best crack... Read more
141219
0
Tonight's Friday Night Video features the Norwegian town of Rjukan, once believed to be the home of the world's tallest... Read more
141219
0
F ounded in 1993, Mountain Hardwear are a pretty young mountaineering clothing and equipment manufacturer but are also one of... Read more
141216
0
Rock shoes stink – let's face it. Boot Bananas are the perfect way to fight the funk and keep them fresh. They help... Read more
141219
0
The release of Peter Jackson's new film The Hobbit: The Battle of the Five Armies on 12th December may not appear to link to... Read more
141212
0
---