| | |
| --- | --- |
| | / OI NEWS: Berghaus Adventure Challenge 2011/12 |
This topic has been archived, and won't accept reply postings.
It's time again for the Berghaus Adventure Challenge which offers funding support to expeditions and adventures. Read on to vote for this month's winner, or get information of how to enter yourself.
Read more at http://www.ukclimbing.com/news/item.php?id=64131
In reply to
UKC Gear:
Dear UKC community, I hope you don't mind me asking you directly for your support. My Carstensz Pyramid Glacier expedition has been shortlisted this month. The objectives of the expedition are to:
- safely climb Carstsensz Pyramid via the normal route up the north face. At 4,884m, CP is the highest mountain in Australasia, Indonesia and New Guinea and the highest island peak in the world.
- compile a photographic record of Papua's few remaining and fast-receding glaciers for analysis by climate change researchers in the UK, US and Australia
You can find out more about the Cartensz Pyramid Glacier expedition and follow the progress via:
Facebook: expedition Facebook page
http://www.facebook.com/aus3peaks
Twitter: expedition Twitter page
http://www.twitter.com/aus3peaks
and my
Website: the expedition website is at
http://www.aus3peaks.com
Blog: the expedition blog is found at:
http://www.aus3peaks.blogspot.com
Vimeo: I have uploaded an introduction that summarises my previous Africa 3 Peaks expedition here:
http://www.vimeo.com/26230409
Although this is not a "charity fundraising" expedition and no funds raised will be offset against the expedition expenses, for personal reasons I will raise funds for Raleigh International's Youth Partnership Programme, which gives underprivileged young people the opportunity to experience a life-changing expedition overseas. You can donate £5 to Raleigh by texting AAWZ67 £5 to 70070. Or, visit
http://www.justgiving.com/aus3peaks
to donate online.
It would be great if you could take a few moments to visit the Berghaus website and vote. Just click "Vote for this entry" on your favourite adventure, easily register your email address, password and name, and you're done!
Many thanks,
Ricky.
In reply to
rickyclimb:
I have voted for the guys that are going walking to Liverpool in the grounds that they were the only that didn't come here begging for votes, and £1000 worth of booze will be a lot of booze!

In reply to
Mr Lopez:
To be fair, I wasn't begging for votes. I was politely asking. I haven't asked on any other thread. You must have read this thread because you were specifically interested in finding more about the Challenge. I've given UKC users some more information about my expedition and politely asked for support (not sarcasm).
Ricky
---
This topic has been archived, and won't accept reply postings.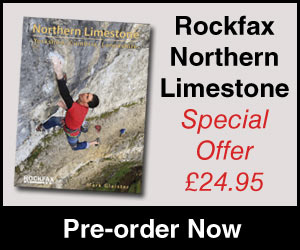 Elsewhere on the site
On Saturday 13th December Greg Boswell and Guy Robertson kicked off their Scottish winter season early by making the... Read more
141218
0
At a bar in Llanberis an old man chimed in And I thought he was out of his head Being a young man I just laughed it off When... Read more
141203
0
The Epicentre Mega Winter Sale starts in store 9am Christmas Eve. We have a great selection of in store only deals from... Read more
141218
0