| | |
| --- | --- |
| | / NEWS: Brits in Rocklands - Hard Ascents and New 8B+/C |
This topic has been archived, and won't accept reply postings.
A strong team of Brits headed out to Rocklands in the Cederberg Mountains of South Africa this summer.
Micky Page had a very successful two months... David Mason was also on fire... Mina Leslie-Wujastyk showed her skills and Sam and Lucinda Whittaker had a successful trip, with Sam adopting his 'Smash on, smash through' technique...

Read more at http://www.ukclimbing.com/news/item.php?id=64216
In reply to
UKC News:
So great to see Micky getting the recognition he deserves! From what I'm led to believe though, it's his choice to keep everything low key. Is there any final ticklist of his? I could imagine it would make EPIC reading.
Anyone coming from the North East knows Micky Page is an absolute legend! He is a lovely lad who is not only on outstanding climber but will help anyone to improve if they ask his advice(thats probably coz they will never be as good as him). He has no need for recognition of any sort from the climbing community but has a thirst and passion for climbing like no other. Awesome effort mate well done!
In reply to
Cliff Lowther:
Hi Cliff. I hope you didn't take my previous post the wrong way. I too am from the North East, albeit it Scotland, but the county is like my home away from home. I love the climbing and I love the people.
I think the way Micky conducts himself is brilliant! And anyone I've spoken to/climbed with in the county who knows him have all said the same as you, about what a lovely guy he is, as well as being immensely humble, talented and helpful.
I was just trying to say that it's nice to here what he's upto, as he is someone at the very top of our sport and pushing standards, but is under most peoples radar's.
I understand that he doesn't need, nor want any recognition for what he has achieved, which I think is greatly admiriable, especially in a sport where media hype and coverage are playing an ever increasing role. I just think it's a shame that your average climber will have no idea who he is/what he has achieved, although he is as good/if not better than most of the people at the forefront of the sport.
However, I don't think increased media presence in climbing/bouldering is bad thing, in fact in my humble opinion, I think its great. I know many people who have either gotten into climbing, or became far more interested/keen to progress themselves having seen films of the top climbers like Micky, as this has open there eyes to what is possible within our sport.
And to further agree with you, Micky is an absolute Legend!
Cheers,
Kris.
Hey Kris

Didnt take it the wrong way at all and in fact was 'trying' to support what you were saying in your first post :-). There are only a few like Micky who have his attitude I just hope he can afford to do what he loves to do for a long time to come. I too would like to see his tick list....I may ask him next time I see him....However, I'm sure my eyes would glaze over as they will be way beyond anything I would be able to climb :-( lol.

Enjoy the County Kris....but keep it quiet ;-) lol
In reply to
Cliff Lowther:
Phew, glad to have cleared that up lol. I will do Cliff ;)
Cheers,
Take it easy.
Kris.
---
This topic has been archived, and won't accept reply postings.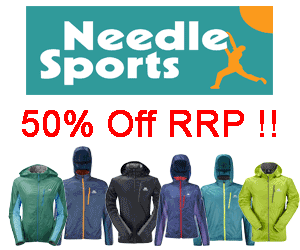 Elsewhere on the site
The Epicentre Mega Winter Sale starts in store 9am Christmas Eve. We have a great selection of in store only deals from... Read more
141218
0
F ounded in 1993, Mountain Hardwear are a pretty young mountaineering clothing and equipment manufacturer but are also one of... Read more
141216
0
With four photos in this week's top ten, and a UKC gallery of stunning images we thought it was time we had a chat with... Read more
141203
0
On Saturday 13th December Greg Boswell and Guy Robertson kicked off their Scottish winter season early by making the... Read more
141218
0
This years ROCfest will be slightly different. We've decided to run a Climbing Festival, not just a competition! Over... Read more
141216
0