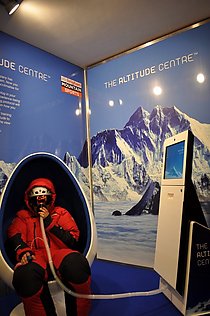 The UK's No1 altitude training company has brought the mountain to Ellis Brigham. Now you can test yourself at altitude or pre acclimatise for your mountain adventure at 130 Deansgate, Manchester
Sit back in the comfortable chair , plug in your own personal altitude mask and experience being in the hills. Our unique testing protocol will provide an instant, detailed report on how you respond to thin air found at altitude.
Alternatively, book in for a series of training sessions in advance of a trip to altitude to pre acclimatise, so you can enjoy the view from the top.
Prices start from £29.99, to book your appointment or for further details call 0161 837 6140 or email manchester@ellis-brigham.com