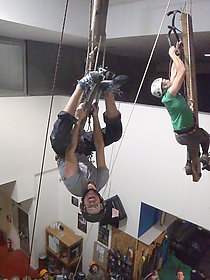 This winter Rock Over Climbing will be hosting the GROWL! The Great Rock Over Winter League!
The GROWL consists of a Bouldering competition in the daytime then a Dry Tooling comp in the evening.
The Dry Tooling competition will include a series of boulder problems, traverses and top-rope routes, you will gain points depending on how far up (or along) the routes you get. This is a fun and friendly series of competitions aimed at absolutely anyone who has swung an axe before regardless of ability!
The competition dates are as follows:
Saturday 29th October 2011
Saturday 3rd December 2011
Saturday 7th January 2012
Saturday 11th February 2012
Registration for the Bouldering competition opens at 11:00 with climbing from 12:00 - 17:00
Dry Tooling is from 17:00 - 20:00
All competitors must fill out our Dry Tooling registration form.
There will be prizes each round as well as big prizes at the end of the league, we will also be dishing out prizes for general all round heroism!!
There will also be food, beer, music and all sorts of other shenanegans throughout the day!
For more information visit our website
www.rockoverclimbing.com