| | |
| --- | --- |
| | / NEWS: UKC and UKH Readers Help Mountain Rescue |
This topic has been archived, and won't accept reply postings.
Last month UKC and UKH Readers got behind the Mountain Rescue Services to help secure some much-needed funding via the NatWest CommunityForce scheme.
Read more at http://www.ukclimbing.com/news/item.php?id=65275
In reply to
UKC News:
A massive thank you once again to UKC, everybody who voted and to Natwest for the support they have given NEWSAR.
In reply to
shingsowa:
absolutely! Great to see some money going into MR wherever it goes.
I'm in an MRT in Lancs and we were bidding for this money too; sadly we didn't feature in UKC's article this time. Hopefully next time UKC will look at MR as a whole and not just those teams lucky enough to get their foot in the door?
However - some's better than none, and thanks to all UKC readers who made a vote. Enjoy the funds NEWSAR! (Perhaps get some red jackets instead of yellow?!?!??)
In reply to
Mungo Shuntobox:
Thanks mate! But i think you may be a little unfair to UKClimbing here.
As the article says, we/I approached UKC at the eleventh hour asking to buy a premier post to help publicise it. Alan immediately offered to put up a news item instead, and to include as many teams as I was aware of in the Natwest project. I only knew of Aberglaslyn MRT, and contacted their team leader. As the news item went up, other teams who were involved in the bid came forward, and Alan added them to the item as they gave him the info.
We've got some nice red and black ones already (bottom photo on the news item), but I do like the yellow ones :-)
In reply to
christopher bate:
Hmm perhaps a little bit unfair yes; as you say it was all eleventh hour (which is normal for us I know) and I was a teeny bit miffed when I saw the original UKC news item asking for people to vote because it really did look like there were only four teams in the running whereas the real number would have been a lot higher.
Perhaps I was really suggesting to UKC that a more 'global' approach to MR teams might be cool, and UKC could try asking folks to support the Teams where they climb walk or live?
All with the benefit of hindsight I know to be fair to UKC - just thoughts for the next time.

In reply to
Mungo Shuntobox:
Hi
Initially we weren't even aware that there was a scheme running so when Richard approach me I asked him about other local campaigns. He only knew of the one he mentioned.
I actually tried the search routine on the NatWest site before producing the first report and it returned no results for 'mountain rescue' which was curious. It later proved to be a very temperamental search routine that would occasionally turn up with decent results but not always as I discovered.
Someone on the thread pointed out some other bids and someone else mentioned that the RBS scheme in Scotland meant that you could get an extra 3 votes. This is how the final list of 6 came about.
Anyway, it was a learning experience for all of us. In future if people get in touch as soon as they can, then we can get behind the campaign in a big way since it did prove that, when you mobilise UKC readers behind a cause, they will make a big difference.
Cheers
Alan
---
This topic has been archived, and won't accept reply postings.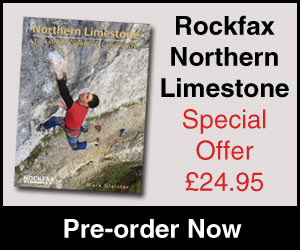 Elsewhere on the site
At a bar in Llanberis an old man chimed in And I thought he was out of his head Being a young man I just laughed it off When... Read more
141203
0
Perhaps the perfect Xmas gift for the climber in your life... Wild Country's Crack School has two of the worlds best crack... Read more
141219
0
Tonight's Friday Night Video features the Norwegian town of Rjukan, once believed to be the home of the world's tallest... Read more
141219
0
F ounded in 1993, Mountain Hardwear are a pretty young mountaineering clothing and equipment manufacturer but are also one of... Read more
141216
0
Rock shoes stink – let's face it. Boot Bananas are the perfect way to fight the funk and keep them fresh. They help... Read more
141219
0
---