| | |
| --- | --- |
| | / Pyrenees - Cirque de Troumouse |
This topic has been archived, and won't accept reply postings.
Hi all,
A bit of a long shot but am heading to the Pyrenees in February and will spending an amazing week in a cow shed within the Cirque de Troumouse (near Heas/Luz St Saveur and Gavarnie) - I went last year and just had a great time practicing skills. I hoping to try something a bit harder this year, probably up to grade TD but really struggling to find info on any mixed routes - The main one I can find is Mounherran (
http://www.camptocamp.org/routes/247244/fr/mounherran-pointe-2718m-face-e),
but as its E facing the avalanche potential is somewhat daunting.
Has anyone out there climbed in this area and know any good mixed routes, ideally taking 2 days up, with 1 bivouac.
Thank you in advanced.
Rich
In reply to
RichieBizzle: There is loads to go at, North face of the Munia has a couple classic lines up it, including a direct one by Gabarrou. A couple of shorter lines up a buttress lower down on the face also, TD, TD+ but cannot remember the names off the top of my head. Also lines in in Pene Blanque area, Heas. Do you read French, do a search with tromouse escalade mixte, check remi-thivel site, look for "topos en vrac" in the site of puisieux or passe murailles and find a copy of Mousel's book, where you'll find more than enough to keep you amused.
In reply to
BD:
This forum continues to amaze me... cheers mate! Have you climbed there much? I don't read french but at the moment google translate is helping me out. Do you know if a winter ascent of the voie Ravier on la Pène Blanque de Troumouse (
http://www.remi-thivel.com/photos/newsphotos/peneblanque180903/pages/peneblanque01.html)
is possible, if so is it a mixed route or just a cold day on the rock in sticky shoes?
I will look for those topos and see what I can work out. Thanks for your help.
Rich
In reply to
RichieBizzle:
Have fun - I can't help with the lines, but the cow shed is quite a bit smarter than that - really quite well appointed if its the place just down donw from the summer refuge that I'm thinking of
We nearly got stuck there when there was a sudden very big snow fall. The rate of accumulation was alarming - in no time at all we were up to our waists and getting down was sporting
We were resigned to missing our flights, but when the snow stopped, the old boy came out of the auberge, got his tractor out and cleared the snow all the way back to the main road. It took at while at a very sedate pace.

---
This topic has been archived, and won't accept reply postings.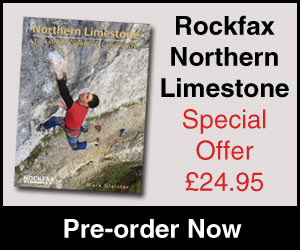 Elsewhere on the site
This Winter Conditions page gives a summary of what is being climbed at the moment, what is 'in' nick and what the prospects are... Read more
The release of Peter Jackson's new film The Hobbit: The Battle of the Five Armies on 12th December may not appear to link to... Read more
141212
0
Outside's BIG WINTER SALE is now on! We've got up to 45% off selected waterproofs, softshells, fleeces,... Read more
141226
0
Tonight's Boxing Day/Friday Night Video features gritstone climbing in Staffordshire - what better way to get motivated for... Read more
141226
0
Perhaps the perfect Xmas gift for the climber in your life... Wild Country's Crack School has two of the worlds best crack... Read more
141219
0
F ounded in 1993, Mountain Hardwear are a pretty young mountaineering clothing and equipment manufacturer but are also one of... Read more
141216
0