| | |
| --- | --- |
| | / Mick Fowler: Spirit of Adventure lecture - London |
The Imperial College Exploration Society is pleased to invite you to a lecture given by the "mountaineer's mountaineer". Mick Fowler will talk about a lifetime of exploratory climbing in locations ranging from the white cliffs of Dover, to sea stacks off the coast of Scotland to the Himalaya.
Venue:
Physics Lecture Theatre 1, Blackett Laboratory, Imperial College, Prince Consort Road, South Kensington, London, SW7
Date:
Tuesday 31st January, 7.00pm.
Price:
Free for all students. £5 for others.
Places and tickets can be reserved by e-mailing
exploration@imperial.ac.uk
with the subject line FOWLER. Payment for for non-students tickets will be on the door.
Will tickets ordered online be posted out or collected on the door? Just curious as I had to pay an exter fiver postage on my ticket.

Sam
In reply to
southern sam: Hi Sam. Please bring a printout of the order confirmation with you. That will gain you entry, we will also reimburse the £5 that you paid for postage, as it was a mistake in the system. Thanks for highlighting this.
In reply to
BorisVBlade: There are still plenty of seats available, so payment can be made on the door without prior researvation.
I was just wondering exactly when the lecture starts. Here and a few other places it says 7pm, but on the shop page where I bought my ticket it says 6.30.

Thanks,

Jim
In reply to
jwonder: Hi Jim, the doors will open at 6.30 and the lecture will start at 7.00.
Thanks,
Boris
In reply to
BorisVBlade:
Any of these lectures happen in the Milton Keynes area.? I cant get to london for 7 from here after work.
In reply to
mkmike: I am afraid not, sorry. We're a society at Imperial College so we host all of the talks on Campus. There might be other talks which are located closer to Milton Keynes, but I don't know of any specific ones. Some good talks are organised by the RGS in South Kensington and they might start later, it's worth checking their website.
---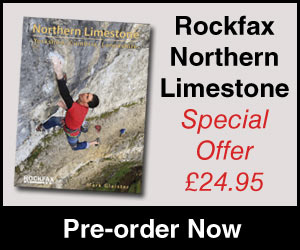 Elsewhere on the site
Perhaps the perfect Xmas gift for the climber in your life... Wild Country's Crack School has two of the worlds best crack... Read more
141219
0
Rock shoes stink – let's face it. Boot Bananas are the perfect way to fight the funk and keep them fresh. They help... Read more
141219
0
Tonight's Friday Night Video features the Norwegian town of Rjukan, once believed to be the home of the world's tallest... Read more
141219
0
F ounded in 1993, Mountain Hardwear are a pretty young mountaineering clothing and equipment manufacturer but are also one of... Read more
141216
0
With four photos in this week's top ten, and a UKC gallery of stunning images we thought it was time we had a chat with... Read more
141203
0
---