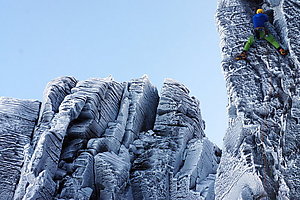 Northern Tooling Series (NTS) & Sunderland Wall are proud to announce the opportunity everyone has been waiting for; to climb, learn and listen to Britain's hottest climbing commodity, Greg Boswell. This exceptional young talent will share his thoughts and techniques used to climb Britain's hardest winter routes. Recently (last week) Greg repeated 'Don't Die of Ignorance' on Ben Nevis's North Face which is graded an unparallel XI 11.
As part of the NTS Dry Tooling extravaganza at Sunderland Wall Greg will be putting on a
dry tooling master class
, open to anyone wanting to improve their dry tooling/winter climbing techniques. Minimum climbing experience is required to enjoy this special event. With a maximum of 8 people per session you are guaranteed to pick up some of the skills Greg has used to climb some phenomenal routes. A limited amount of equipment is available to borrow should you need to.
Venue
: Sunderland Climbing Wall
http://www.sunderlandwall.co.uk
<bDate & Time: Friday 10th February 2012 at 17.30hrs – 1900hrs & 1930hrs – 2100hrs
Price
: only £20 (including free lecture ticket for Saturday evening (see below) so book early to avoid disappointment.
Following the main dry tooling event on Saturday evening (1900hrs), Greg will be giving a
lecture presentation
discussing, I'm sure, his recent repeat ascents, as well as some stories of other climbs done during his phenomenal winter season last year. A question and answer session will follow this and allow you to probe into what makes this young Scots lad tick.
Venue
: Sunderland Climbing Wall
Date & Time
: Saturday 11th February 2012 at 1930hrs – 2200hrs (approximately) Doors open at 1900hrs
Price
: £10
Tickets for both events can be bought through the NTS website
http://www.northerntoolingseries.co.uk
. Lecture tickets can also be bought on the door priced £10. Please bring a printout of your electronic order confirmation along on the evening to gain entry.
For more information contact Cliff Lowther:
Tel: 07765927633 or email:
cliff@northerntoolingseries.co.uk
Finally
there are still places left for all categories of our main event, so if you fancy a fun day with a bit of craic get yourself along to Sunderland Wall 11th February. Please note you do not need to be an expert to enter :-)
Greg Boswell is sponsored by Grivel
http://www.grivelgb.co.uk
Scarpa
http://www.scarpa.co.uk
and Outdoor Research
http://www.outdoorresearch.co.uk