| | |
| --- | --- |
| | / Blonde question! Mont Blanc Gloves |
This topic has been archived, and won't accept reply postings.
Hi guys,

Climbing Mt Blanc in July, my first alpine ascent, on a course with Dream Guides. Gloves- can you recommend any good gloves suitable for the trip? And also, on the internet, they are almost always listed as 'glove' rather than gloves even though there is normally two in the picture. For the price you'd expect it to be two gloves as well. It's quite confusing so I want to make sure. Am I ordering one individual glove, or a pair?

Cheers- Alex
In reply to
Stani49:
Honestly girl, you should have posted this on Sunday, you might have got more of a response anyway.
To answer your question, gloves are the same as socks and shoes, and are always sold and priced as a pair. But I would never by alpine gloves over the internet unless they were ones I've already tried on. gloves can be like boots, you need to try them on, if they are to tight you will get cold hands, if they are to big, or more likely to long in the fingers, you wont have the dexterity and will always be taking them off to do things. Go to a reputable shop, get some advice and try them on. The shops will usually come down in price if you haggle, anyway what price do you put on your fingers! Oh and buy gloves not mitts, you can't hold an ice axe properly in mitts.
In reply to
pass and peak:
> Oh and buy gloves not mitts, you can't hold an ice axe properly in mitts.

Not sure I agree, I would quite possibly be minus a digit or two if I had just taken gloves on Mont Blanc... (and I've never had a problem handling an axe wearing mitts)
I wore Dachstein mitts and my hands were numb for most of the ascent then became massively swollen and oedematous back at the Gouter Hut. We did climb it in unusually cold conditions in July and left the hut at 12am to beat an approaching Low Pressure system. I got frost nipped toes on the ascent despite wearing Sportiva Trango Extremes with thinsulate lining so also be wary of advice that 3 season boots are ok if they fit a crampon!
I think in average conditions a pair of gloves like the ME Randonee would be perfect but definitely have some beefy mitts in the bottom of your sack for if conditions crap out. Dachsteins or Buffalo/Montane type mitts weigh next to nothing and are still dextrous enough to do most essential tasks on the climb (open a chocolate bar, take a photo etc)
Like I say, it was unusually cold and not many people were out that day but our Scottish tactics paid off! Technique Extreme in Chamonix will probably have some pretty reasonably priced overmitts/pile mitts which you could get out there if it's looking like it might be a cold summit day.
For most of the rest of your course a thin fleece or leather glove will be fine. ME Randonee is a great glove for colder weather/mixed stuff in the Alps.
Iain
In reply to
Stani49:
I'd go for mitts. Dachsteins are great but something windproof over the top can help. Maybe the Dream Guides folk could loan you some mitts / gloves.
Also, take spares... many years ago I stood on the summit of the very same hill with two friends. One of whom dropped her glove and the wind carried it rapidly towards the Brenva face. The other friend started running after it which greatly troubled me - not only was he running towards the top of some very big cliffs, but I was tied to him. I managed to persuade him to stop and loaned the other friend a spare mitt.
In reply to
Joe G: Quality advice and story. My wife dropped a glove high on the Hornligrat - I declined to chase it down the North Face. You never know what you are going to get weatherwise. A SW airstream and a late start and some light gloves will be ok. A Northerly airstream and early start, some wind, and all of a sudden two pairs won't feel enough. I would take a light wind proof pair (technique extreme do a scotchguard windblocker pair for about 20 euros, good for scrambling too), a pair of climbing gauntlets, and a pair of mitts as a back up. Spare gloves are one of those things that are worth the weight. Also, as said already, it might not be you that needs the spare pair. My brother wouldn't have got up Mt Blanc on his first trip to the alps if a Swiss guide hadn't lent him a pair of mitts.
In reply to
cannichoutdoors: Also, don't forget the rest of the body. The more spare warmth in your core, the warmer your hands will be. If your core is cold, it doesn't matter what gloves you have, you'll be cold.

In reply to
Stani49: another vote for buffalo mits. Windstopper gloves are good too. Neoprene is excellent particularly if u like the smell.
Have fun
---
This topic has been archived, and won't accept reply postings.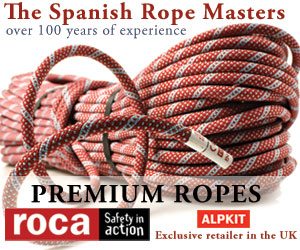 Elsewhere on the site
Steve Dunning has made what is likely the tenth ascent of The New Statesman, the classic and bold gritstone arete at the Cow... Read more
141216
0
This years ROCfest will be slightly different. We've decided to run a Climbing Festival, not just a competition! Over... Read more
141216
0
Climbing Technology's range of winter hardware continues to grow and for winter 2014 they have a crampon in the range to... Read more
141217
0
The release of Peter Jackson's new film The Hobbit: The Battle of the Five Armies on 12th December may not appear to link to... Read more
141212
0
F ounded in 1993, Mountain Hardwear are a pretty young mountaineering clothing and equipment manufacturer but are also one of... Read more
141216
0
---