| | |
| --- | --- |
| | / Montserrrat |
This topic has been archived, and won't accept reply postings.
Just had a week in Montserrat, was awesome fun and a bit of an adventure! Things we would change for next time:
1) Go later in the year - no bird ban and thre will hopefully be more climbers about,
2) Don't expect to find food at 10pm on a Saturday
3) There is a toll barrier to get in and out of the monastery area but it is opened in the evening
4) Learn Spanish! Will make life generally easier especially when reading the guidebook
5)Find routes with "parabolts" much better for your confidence than "clavos y spits"
6) Take more QDs...12 QDs is not enough when the book says 15
7) Take less trad gear...most of the placements we found were fairly superficial
and for anyone thinking of going remember to take a helmet!
http://wi11hardy.blogspot.co.uk/2012/04/week-of-choss-calamity-civil-disorder.html
In reply to
wi11: Shameless self-plugging here Will... ;o
Point number 6 should surely be learn to read?? If the guidebook says 15 draws what on earth made you take just 12!?!?
Thanks - what's the scope of the bird ban - does it cover the Gorros, Sant Benet and El Clot de la Monica areas?


In reply to
wi11: first time I ever went in the late 60,s early 70,s the camping was free ,you couldnt buy anything up there and we never saw another climber ..
In reply to
Smiler H: Haha just a bit, we also didn't find a huge amount of info before we left so thought this might be useful to someone in the future. And I hadn't looked at the guide before we left and was sharing a bag so we were trying to save weight.
In reply to
victorclimber: Jhw have replied to your email.
Camping was free for us as we slept in a layby/picnic area and food was a bit of an issues for the first day or so. What was it like back then? Must have been really adventorus, our trip certinaly seemed to be!
Erk! That blog doesn't make Montserrat sound anywhere near as nice as it actually is! Did you not get to Gorros & Sant Bennet?
In reply to
wi11: it was a great place to spend some time cheaply ,we visited on a year long trip around Europe and North Africa climbing, have to say we didnt do lots of climbing,but its a great place
---
This topic has been archived, and won't accept reply postings.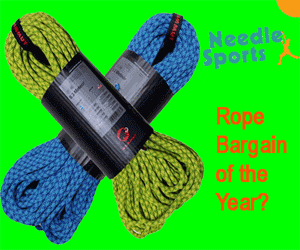 Elsewhere on the site
F ounded in 1993, Mountain Hardwear are a pretty young mountaineering clothing and equipment manufacturer but are also one of... Read more
141216
0
At a bar in Llanberis an old man chimed in And I thought he was out of his head Being a young man I just laughed it off When... Read more
141203
0
Tonight's Friday Night Video features the Norwegian town of Rjukan, once believed to be the home of the world's tallest... Read more
141219
0
Rock shoes stink – let's face it. Boot Bananas are the perfect way to fight the funk and keep them fresh. They help... Read more
141219
0
Perhaps the perfect Xmas gift for the climber in your life... Wild Country's Crack School has two of the worlds best crack... Read more
141219
0
---