| | |
| --- | --- |
| | / Pennine Alps/Saas valley - guide books? |
This topic has been archived, and won't accept reply postings.
Hi,

I'm planning my first trip out to the alps in early June. I'm looking to base myself out of Saas Grund and do some stuff like the Via Ferratas, or the Dri Hornli, and maybe the Weissmies.

Can anyone suggest a good guidebook that covers that region that I can get hold of?

I know Valais Alps East is meant to be good, but its 50 quid on amazon?!

Many thanks :)

In reply to
wkrzys: If you read some French (you don't need much) the SAC selected guide to the Valais is very good. Even the pictures alone are fine. Probably not far off £50 equivalent though.
In reply to
wkrzys: The Valais east only cover alpine routes. There is an SAC rock guide ( Oberwallis ) which covers the rock routes in the vally but that is 58 CHF. Probally your best bet is the Schweiz plaisir WEST which is 48 CHF which is a selective guide but cover routes on the Dri Hornli and the Jaghorn.
I was in Saas last summer following some friends around. When the weather was bad up top we strolled into a shop in Saas Grund and they had a small stack of guidebooks up for grabs. Small guidebook and in German but well detailed pictures and grades etc of what we assumed was most of the area. Might be what you want, unfortunetly I didn't keep a copy but I'm sure that would be of some use.
Thanks guys for your help - I'll see if I can track any of those down, otherwise may just be what I can get in Saas Grund :)

Thanks again
In reply to
wkrzys:
Not used where you are based, but I used to get those AC books from the London Libs. Great free guidebook loan service. Pretty sure I go the Valais East from Islington Lib.
If you're in London you may be able to actually call up the AC and visit in person to get the Valais East book from their Charlotte St office. That was the only way I could get my hands on a copy.
In reply to
wkrzys: If you are still stuck nearer the time. Give me a shout. As I have most of the guidebooks and have a house 15 mins from Saas Grund.

In reply to
wkrzys:
Hi,
I just happen to have bought a new Valais Alps East in Madrid in Desnivel (
http://www.libreriadesnivel.com/libros/valais-alps-east-selected-climbs/9780900523625/)
bookshop for 25EUR (1999 edition), so 50GBP sounds like a killer.
You can try looking at
http://www.libreriadesnivel.com/condicionesdeenvio/#b
at making the counts: 28EUR for book plus 18EUR of shipping costs still works out less than 50 quid - mind you I seem to have taken the last book from the shelf so not sure if they have any more available in the bookstore (the webpag says you have to wait max 10 days for availability).
You can give it a try, perhaps some of your friends will be in Madrid before you go to the Alps and could get you this book (you could call and reserve one) - long shot, but looking at the book itself well worth a try!
Cheers
RS
---
This topic has been archived, and won't accept reply postings.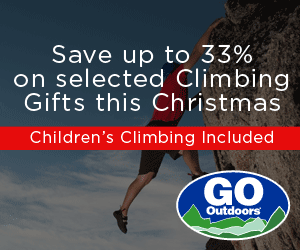 Elsewhere on the site
F ounded in 1993, Mountain Hardwear are a pretty young mountaineering clothing and equipment manufacturer but are also one of... Read more
141216
0
Rock shoes stink – let's face it. Boot Bananas are the perfect way to fight the funk and keep them fresh. They help... Read more
141219
0
Perhaps the perfect Xmas gift for the climber in your life... Wild Country's Crack School has two of the worlds best crack... Read more
141219
0
Tonight's Friday Night Video features the Norwegian town of Rjukan, once believed to be the home of the world's tallest... Read more
141219
0
At a bar in Llanberis an old man chimed in And I thought he was out of his head Being a young man I just laughed it off When... Read more
141203
0
---