Premier Post - Llanberis Climbing Car Boot Sale 27th May 2012
Your message was successfully posted:
Note that it may take up to 30 seconds for your new message to appear on the main forum pages
by - tobykeep
on - 09 May 2012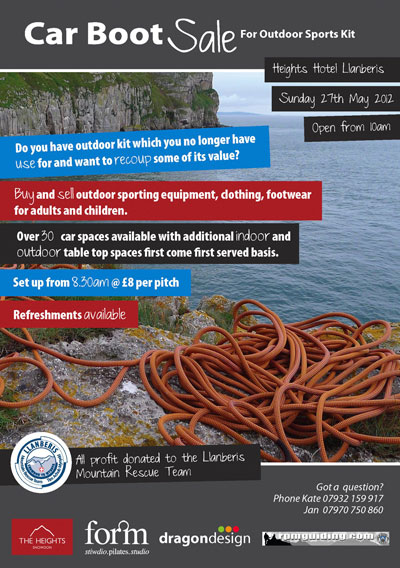 Climbing Gear Car Boot Sale

There is going to be a Climbing and General Outdoor Gear Car Boot Sale in the car park of the Heights in Llanberis on Sunday the 27th May 2012.

It starts at 10am. Anyone who wants a stall can set up from 8.30, but there are only 30 car spaces, so get there early if you want to sell stuff.

It's £8 a car and all profits will go to Llanberis Mountain Rescue Team. The rescue team will have their own car boot, with all the sales from that going to the team too, so hopefully it will produce some much needed funds for LlMRT and be the ideal opportunity to sell some of your spare stuff, or pick up a bargain!

Bacon butties and coffee will be available from The Heights.

Hopefully see you there!

by - Martin1978
on - 10 May 2012
In reply to tobykeep: Shame thsi isn't the weekend after when I'm actually heading over as I'd loved to have had a rummage!
by - Bert
on - 18 May 2012
In reply to tobykeep: Hi there,
I was wondering do these happen often (never heard of one before), unfortunately I cannot make that date since I will be in the middle of uni exams, was wondering if there are plans for another over the summer time, if so my partner and I would definitely come along.
Thanks
by - gd303uk
on - 18 May 2012
In reply to tobykeep: Good idea, I will call in :)

by - tobykeep
on - 19 May 2012
In reply to Bert:

It's the first one round here for a bit, but I think the plan is for this one to become an annual event. So hopefully next year. Going to try and sort some stuff out today to take!

by - Klimb
on - 24 May 2012
In reply to tobykeep: We'll be there!

by - wolfy1987
on - 27 May 2012
I was there today. It was scorching and loads of great gear to be had. Me and a few mates made loads of purchases at ridiculously low prices. Hope they do this again soon!!!!!