| | |
| --- | --- |
| | / Petzl Tikkina2 |
This topic has been archived, and won't accept reply postings.
Anyone used one??? Are they any good???
In reply to
An Triubhas: I haven't used the tikkina 2 but any other petzl headlamps I/my family have had has been really good and I have never had any problems
HTH
In reply to
derek the dragon:
Thank you....just wondering about people's experiences with brightness, distance and battery life?????
In reply to
An Triubhas: Sorry, can't help there, but IME petzl are usually pretty close to the mark on their website
In reply to
An Triubhas: It's the lowest end of the scale in terms of brightness (but you probably know that) and it's also just got a manual switch while the rest in the range are digital.
I've seen one on but not used one for any long period of time, it's bright enough to see by when the batteries are fresh and has a big battery life. Bare in mind, though, that by the time the batteries are half depleted the light will be next to useless.
As mentioned by someone else the construction quality is as good as the rest of the Petzl stuff. You'll be fine walking the dog with fresh batteries in or reading in bed. Obviously there are other brnads but if I was you I'd stump up the extra for at least the Tikka 2 or better still the Tikka plus 2 which has a single high power LED and should last you well.
ben
In reply to
An Triubhas:
We have three of these, probably the earlier version, and they are great as general camping lights. OK for walking back to the car from the crag type of thing. I bought them in a sale because they cost more or less the price of the batteries that were included (and because the female components of my family are world class at losing things).
However, they would be inadequate for serious use, which includes descending from mountain summits, ski touring at night, foggy whiteout conditions in the dark, caving, night orienteering, and so on.
In reply to
An Triubhas: I agree with the above post. My brother has one and it's alright for car camping but much more and you'd want to step up to the tikka2.

Thanks to everyone for the reviews. I think I'll give that one a miss.

AT
---
This topic has been archived, and won't accept reply postings.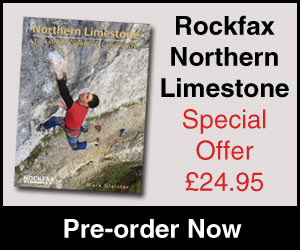 Elsewhere on the site
F ounded in 1993, Mountain Hardwear are a pretty young mountaineering clothing and equipment manufacturer but are also one of... Read more
141216
0
Rock shoes stink – let's face it. Boot Bananas are the perfect way to fight the funk and keep them fresh. They help... Read more
141219
0
At a bar in Llanberis an old man chimed in And I thought he was out of his head Being a young man I just laughed it off When... Read more
141203
0
Tonight's Friday Night Video features the Norwegian town of Rjukan, once believed to be the home of the world's tallest... Read more
141219
0
Perhaps the perfect Xmas gift for the climber in your life... Wild Country's Crack School has two of the worlds best crack... Read more
141219
0
---