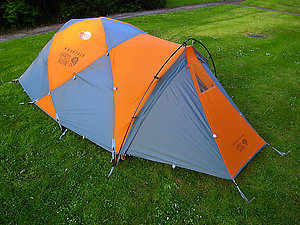 Trango 2 - Like new. Selling as I need something smaller and can only afford one extravagant tent! Would consider trades of Hilleberg Soulo or equivalent (no nallos though please).
Super strong, excellent internal storage, and in brand new condition (it also smells new). It has been pitched once for the purpose of the photo's. Slight mud mark to groundsheet as grass was a little damp, otherwise it's immaculate.
Cost me over £500 a few months ago. £350 posted. Grab a bargain now.
Loads of pics of it can be found here:
http://s56.photobucket.com/albums/g178/Lewisimo_69/For%20Sale/
If interested please post on this thread, or call / text me on zero7511 one50627

Thanks.
In reply to
commandoclimber:
No, I called them to check and was told they're selling last years model. Apparently they have some clearance as the distributor no long distributes them so is selling off old stock.
Thanks for your interest anyway.
In reply to
commandoclimber:
Hi buddy, emailed a reply. Let me know if there's anything else you need to know. Thanks.
In reply to
Lewisok:
Still for sale.... Any offers guys?