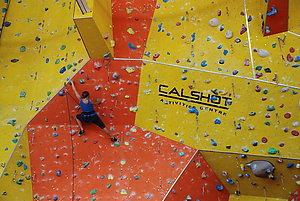 Climbing Wall Supervisor/Instructor for Calshot Activities Centre, Southampton.

Salary £14,136 - £17,034
The climbing wall at Calshot is one of the largest public climbing walls in the country with well over 1200 m2 of climbing, which combined with its location in one of the largest activities centres in the country makes this a unique position.
You will be a key member of the climbing wall team at Calshot. You will be involved supervising members of the public when they are climbing recreationally and instructing on a wide range of climbing courses, from beginner sessions for 4-7year olds to adult learn to climb courses and youth climbing clubs. You will also have responsibility for checking and maintaining the centres climbing and high ropes equipment and ensuring the centres health and safety policies are adhered to.
You'll be an experienced, enthusiastic and motivated CWA or SPA holder ideally with experience of working at indoor walls. You should have experience teaching climbing to a wide range of groups. You will have a clear understanding of health and safety requirements at climbing walls, as well the ability to provide excellent customer service. Additional experience of wall supervision/floor walking, equipment checking, route setting and working in a customer focused environment would be desirable.
The centre as a whole offers residential and non-residential courses in an unrivalled number of exciting water and landbased activities. Situated in a unique position on the shores of the Solent, our magnificent setting gives immediate access to the country's most popular watersports location. Ashore, historic hangars accommodate the state of the art climbing complex plus the only indoor Velodrome in Southern England and a dry Ski Slope.
The range of activities taught at the Centre includes Canoeing, Dinghy Sailing, Windsurfing, Powerboating, Downhill Skiing, Snowboarding, Rock Climbing, Track Cycling, Mountain Biking, Archery, Orienteering, High Ropes, Field Studies and Development Training.
Further information can be found online at
http://www.calshot.com
Applications must be submitted on line atsv7.wcn.co.uk

Closing date for applications is 10th June

Interviews 26th June