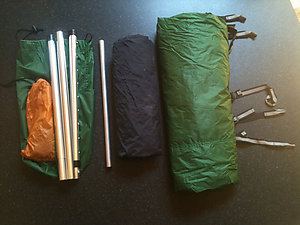 For sale is a Golite Hex (now called Shangri-La) 3 Shelter. It has had relatively little use and is in very good condition. The item includes:
Golite Hex 3 shelter and pole
Golite Hex 3 bathtub floor
Golite pole extender for use with trekking poles
Golite pegs
This is an excellent lightweight alternative to the traditional tent. Is modular and can be used with or without the floor and aslo a nest can be added if required. Becoming difficult to find in the UK. You can get more information from the Golite website:
http://www.golite.com/Shangri-La-3-Tent-P46713.aspx
Price £155 inc. P&P
In reply to
leecamonline:
Hi Lee,
Do you still have the Hex 3 - I'm looking for just the bath floor if your willing to sell that separately?
Between the GF and I we have 2 x Hex 3 both with the full mosi net inner, which is quite heavy, hence why i'm looking for a bath floor only.
Thanks
Ski
I could be interested in the Hex and pole if you sell the bath floor