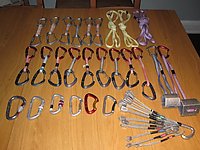 Having a clear out of some of my climbing gear basically to de-clutter the house a bit but also cos I'm such a blouse on routes and rarely use it. Because of this it means that the gear is in pretty good condition (See pic) with some of it only been used a few times. Some of the stuff I would prefer to sell as a set such as the nuts but understand people might have holes to plug in their racks so just email me and I'm sure we could come to some sort of arrangement. I'm Sheffield based so people can collect or I'll post out if needs be.
DMM Wire Quickdraws x 6- £7 each or all for £38
Wild Country Wire Quickdraws x 9- £6 each or all 9 for £50
Full set (1-10) Wild Country nuts with wire gate- £5 each or £40 for the lot (Would really prefer to sell these as a set)
Wild Country Rockcentric size 8/9 each with wire gate- £8 each
Wild Country 240cm Dyneema sling- £7
Wild Country 120cm Dyneema sling x2- £5 each
Screwgate Karabiners x3- Large- £5, Small x2- £4 each
Bent gate karabiners x3- £3 each
OR
£180 for the lot.
All gear is sold in good faith with my understanding that it is safe and fit for purpose, but obviously with all second hand climbing gear have it checked by a professional if you're unsure before you use it and I accept no responsibility for any failings.
Cheers
adamcoefield@hotmail.com